Date of foundation – January 15, 1938
The Gomel' region is the largest one in Belarus – it is located in the southwestern part of the East European Plain. It borders with the Russian Federation and Ukraine.
Administrative center – Gomel' (distance from Minsk — 302 km).
Industrial centers: Zlobin, Mozyr'.
Gomel' region ranks 2nd among the regions in population – 1.428,5 thousand people (as of July 1, 2012).
The region is the leader in the country in industrial production per capita. The region produces the entire volume of finished rolled ferrous metal products. The region also specializes in the production of oil and associated gas, gasoline and diesel fuel, phosphate fertilizers, harvesters, salt, cardboard, plywood and particle board.
The main agricultural spheres of the region are: dairy cattle breeding, horticulture, potato growing and flax growing (in the eastern part of the region).
In the gross regional product volume the region ranks 3rd. 75 percent of output is exported. Gomel' manufacturers cooperate with trade partners from 115 countries of the world. Among the most important are Russia, Germany, Ukraine, Poland, Italy, France, the Baltic countries.
Main transport routes pass through the Gomel' region. Major rail junctions — Gomel', Zlobin Kalinkovici. Motor vehicles also have an important role. Highways St. Petersburg-Kiev-Odessa, Bryansk-Kobrin, Gomel'-Minsk, Gomel'-Mozyr' are connected by bus communication with all of the district centers.
Opportunities of Gomel' Airport of Class III allow operating year-round flights to cities in the CIS and other foreign countries. There is also an airport in the city of Mozyr'.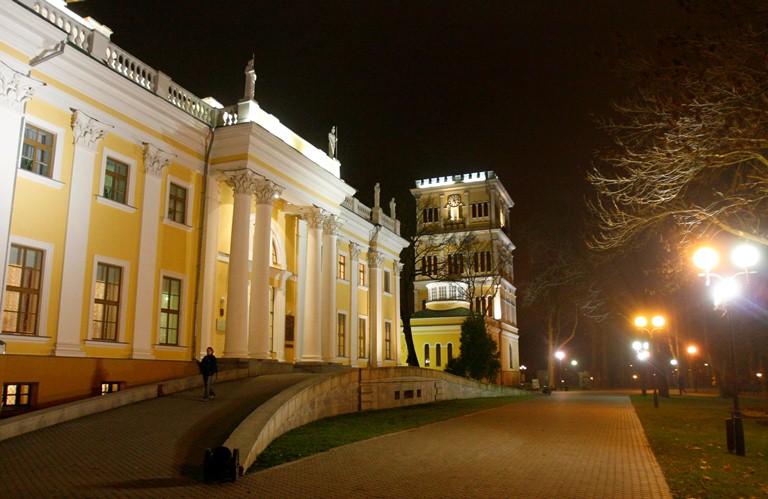 The river Soz links Gomel' with Dnieper. Regular shipping is carried out via Pripjat', Dnieper and Bieriezina.
There is unique world Poliesski Radiation Ecological Reserve, where the territories affected by radioactive exposure from the Cernobyl' nuclear power plant are studied and kept in their natural condition in the region.