Belarusians are creative people, a little bit conservative in their habits, but interested in new trends. They are always open to dialogue and willing to help. This portrait of modern Belarusians can be drawn by examining the publications of the Ignite Social Media agency, which specializes in global studies of mass communications.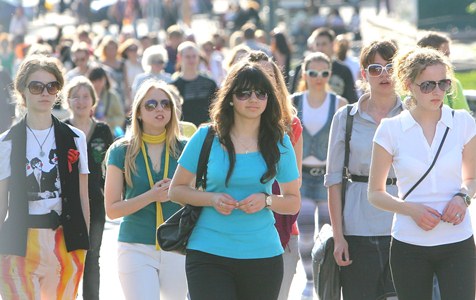 Analysis, based on the number of Google queries, suggests that Belarusians are music fans. As a proof — the 11th place in the top, ahead of the citizens of the republic are the citizens of the United Kingdom, behind — Sweden, Russia and even the USA. Belarusians prefer personal blogs, as evidenced by the 3rd place in the Livejournal list.
The National Statistical Committee draws a more specific portrait. 54 percent of people living in Belarus are women. 76% of women live in cities and towns, and 24% of women — in rural areas. Moreover, the average rural woman is older than the urban woman by seven years at an average.
If we believe in figures, the current resident of the republic is a 42-year-old Belarusian woman, who has a higher education and lives in a city. She works in the manufacturing industry or in education. She got married at 24, and a year later gave birth to her first child. Her native language is Belarusian, but in everyday life she speaks Russian.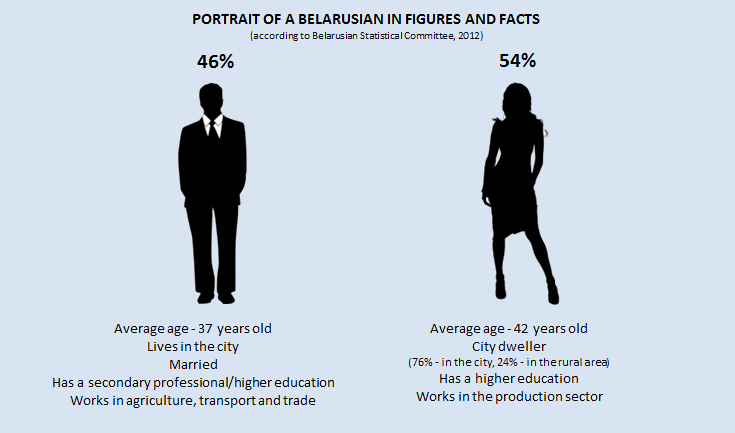 That said, the average Belarusian man is younger: as of the beginning of 2012, the average age of a Belarusian man was 37. He prefers to live in a city, has special secondary (each third) or higher education (each sixth). Married. His priority activities are agriculture, trade in cars and motorcycles, their technical maintenance and repair, as well as transportation, construction, fishing, hunting and forestry.
Modern Belarusians look after their health and lead an active life style, which is promoted by numerous programs of state policy aimed at improving the health of the nation. (See section "Health Protection").