For many residents of Belarus, railway transport is one of the most comfortable, reliable and accessible. The railway network launched over 150 years ago, in 1862, when the Hrodna-Parečča section of line opened.
Belarusian Railways occupy a leading position for transport services, annually transporting more than 140 million tonnes of cargo and 90 million passengers: over 60 percent of total cargo turnover in Belarus, and 30 percent of passenger numbers.


Structure of Belarusian Railways
The Belarusian railway system unites twenty-nine organisations, each of which has the status of a legal entity. There are seven structural divisions (branches); as well as three foreign representation offices: in Russia, Kazakhstan and Poland. In total, it employs 79,000 people, including representatives of around 500 professions. Railway workers honour their traditions, with around 400 families working on the railway through the generations.
There are 572 passenger halt platforms, and 320 passenger stations, as well as nineteen major railway station hubs, including four stations above classification. On average, more than 200,000 people use railway transport daily.
Meanwhile, 370 stations deal with cargo transportation, including nine distributing stations and twenty-seven freight stations. Average daily rail loadings exceed 200,000 tonnes.

Passenger transportation
Belarusian Railways are known globally, connecting connects Belarus with Paris, Nice, Berlin, Warsaw, Prague, Bucharest, and Vienna, as well as the capitals and administrative centres of Russia, Ukraine, Lithuania, Latvia and Kazakhstan.
The system operates thirty-four regular train pairs, to the Russian Federation, Ukraine, Lithuania, Latvia, Poland and Kazakhstan. Moreover, it offers six international premium service trains: five travelling to the Russian Federation and one to the capital of Ukraine.
In recent years, the system of passenger railway transportation in Belarus has transformed, covering urban and regional lines, interregional, international, and commercial.

Urban lines operate within the city of Minsk, as far as its satellite towns. Modern four-carriage electric urban line trains connect Minsk with the satellite towns of Zasláŭje, Rudziensk and Smaliavičy.
Business class regional lines enjoy steady demand among passengers. On November 19th, 2011, regular transportation launched along the Minsk-Baranavičy-Minsk and Baranavičy-Brest-Baranavičy routes; about 45 days later, regional line business class trains began running along the Minsk-Orša-Minsk route. Infrastructure modernisation and electrification of the Asipovičy-Babrujsk section enabled business class trains to launch along the regional line between Minsk and Babrujsk, from April 6th, 2013.
Since May 2013, new business class trains have been running along regional lines linking Orša-Kryčaŭ-Kamunary, and Kamunary-Mahilioŭ. In September 2013, the Minsk-Žlobin section gained business class trains, followed by the Minsk-Maladziečna section in 2014. Economy class trains remain dominant on regional lines.
Interregional lines carry passengers between Minsk and regional centres, as well as between regional centres of the Republic. Depending on speeds, and the number of stops, interregional lines are divided into business and economy classes. Business class interregional trains connect the capital with Brest, Homieĺ and Viciebsk.
International lines link the Republic of Belarus with other states. They ensure passenger service between the city of Minsk, and regional centres of the Republic, with capitals and various regions of other countries.
Belarusian Railways is keen to enhance its quality of passenger service, updating its rolling stock. As part of the 2011-2015 State Railway Transport Development Programme of the Republic of Belarus, Belarusian Railways purchased seven passenger diesel locomotives, sixteen electric trains manufactured by Swiss Stadler Bussnang AG, and nine diesel trains of various formations, produced by Polish PESA Bydgoszсz.


Purchasing tickets
Ticket sales are completely automated, performed through ASU Express-3. Self-service payment and information terminals have been installed to sell tickets for regional economy class and urban line trains, accepting bankcards. In 2011, the online site www.poezd.rw.by launched, selling tickets electronically, with full payment, avoiding the need to purchase a formal paper ticket from a ticket office.

Advantages of transit
The beneficial geopolitical location of Belarus, at the crossroads of II and IX Pan-European transport corridors, and at the junction of track gauges of 1435mm and 1520mm, makes it a vital link connecting Europe and Asia. Development of transit is a priority for Belarusian Railways. Transit accounts for around 30 percent of all cargo transportation by rail in Belarus at present.
Belarus boasts long-term railway transit cargo traffic, particularly to Latvian ports (Zavoĺša-Bihosava) and to the Kaliningrad Region and Lithuania. Transportation to EU states is also important, as part of the II Pan-European Transport Corridor, as is that between the Baltic and Black seas, as part of the IX Pan-European Transport Corridor.
East-West-East traffic traverses three border checkpoints: Brest-Terespol; Bruzhi-Kuźnica Białostocka; and Svislač-Siemianówka. Major capacities of transhipping and warehousing infrastructure are concentrated at the border with Poland, and significant potential exists to organise transhipment of bulk cargoes. Cargo terminals provide a whole range of services for handling and storage of various cargoes.
The Belarusian railway network is ready to provide reliable transport connections between China and European countries, becoming an optimum transport-logistics link for major economic and transport logistics projects.
Over the last few years, the number of regular freight container trains running between China and Western Europe has been steadily rising. The following trains run regularly via the Belarusian railway system:
China — Poland (Chengdu-Lodz);

China — Germany (Changzhou — Hamburg);

'New Silk Road' China — Germany (Chongqing – Duisburg);

'BMW' Germany — China (Leipzig — Shenyang);

'Ford' Germany — China (Duisburg — Chongqing);

'Saule' Lithuania – China;

China — Germany (Wuhan — Hamburg);

China — Spain (Yiwu — Madrid).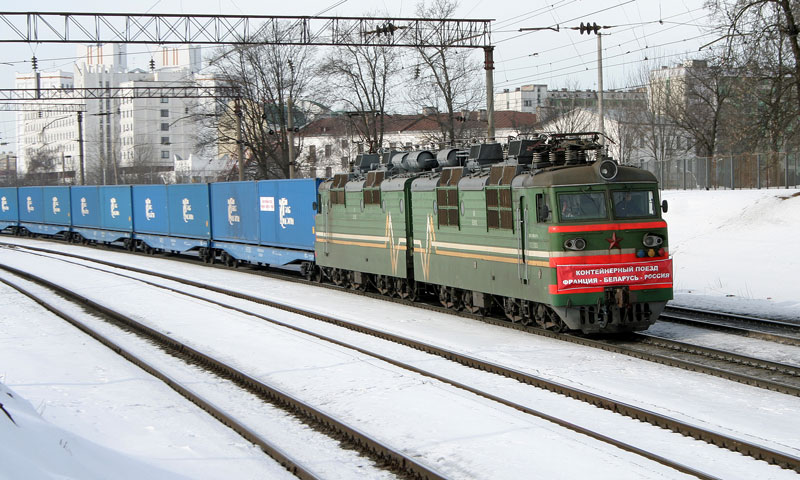 Infrastructure modernisation
The strategic goal of Belarusian Railways is the modernisation of infrastructure, with electrification of railway lines being a major project in this sphere.
Railway lines within the II Pan-European Transport Corridor are completely electrified and a major investment project is being implemented to electrify sections of the Homieĺ-Žlobin-Asipovičy and Žlobin-Kalinkavičy routes (of the IX Pan-European Transport Corridor). In September 2013, the first stage of this project was realised, and the Žlobin-Asipovičy section opened.
Once the Žlobin-Asipovičy section is electrified in full, 1091.2km of lines will be electrified (or 19.5 percent of the total length). In September 2015, Belarusian Railways launched electrification of the Maladziečna-Hudahaj-state border section.
Great attention is being paid to the development of infrastructure for cargo. In 2015, Belarusian Railways finished modernising Kaliadzičy freight station, which is part of the Minsk Transport-Logistics Centre, raising its storage and handling capacity. Kaliadzičy station is an important link in organising export-import cargo transportation via Belarusian Railways, including container transportations. Cargo handling and transhipment take place from Kaliadzičy station outwards, to the Belarusian regions, as well as to the CIS and Baltic states, and onwards to other foreign countries, using rail and road networks.
Co-operation with foreign countries
Belarusian Railways co-operates with railway administrations in the CIS, Baltic and EU states, as well as further abroad, and feeds into such international transport organisations as the Commonwealth Member State Rail Transport Council.
Organisation for Co-operation between Railways, the International Union of Railways, the Co-ordination Conference on Planning and Performing Traffic Operations within International Passenger Railway Routes (FTE), and the International Association Co-ordination Council on Trans-Siberian Transportation.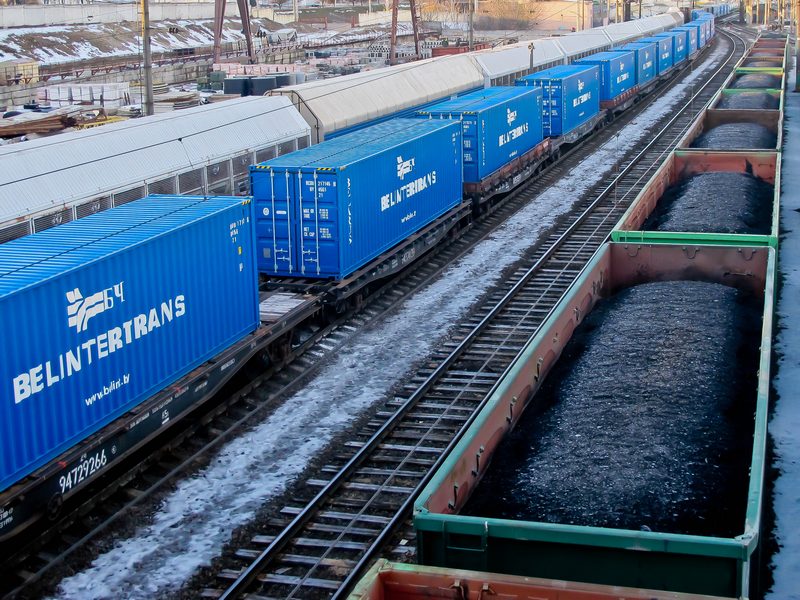 Foreign representation offices of Belarusian Railways:
in the Russian Federation
Russia, 125047, Moscow, Tverskoy Zastavy Sq., 5а, office 219,
Tel./fax (+7 499) 262 94 27
khvalko1955@mail.ru


in the Republic of Kazakhstan
Kazakhstan, 010000, Astana, D. Kunaeva Str., 6,
Tel. (+7 7172) 60 04 99, fax (+7 7172) 60 04 98
nmskzh@tut.by


in the Republic of Poland
Republic of Poland, PL 00-681 Warsaw, ul. Hoza 63/67,
Tel./fax (+48 22) 47 44 080, tel. (+48 22) 47 44 822
bcpolen@pkp.pl