In choosing a country, a clinic or a doctor, everyone is looking for decent quality at a reasonable price. In this regard, the Republic of Belarus offers a range of advantages.
At present, Belarus' health care system offers virtually the entire spectrum of medical services, mainly at state health establishments. This guarantees continuous monitoring of the quality of medical care, in accordance with state standards in the field of public health.
In some areas, the cost of treatment in Belarus is much lower than in Europe or Israel (in the same areas), while offering high quality of service. Medical care is carried out at leading clinics and specialised scientific-practical centres, equipped with the latest medical equipment, in accordance with international standards.
Medical care is provided by professionals of the highest level, who participate in specialised international conferences and symposiums and research programmes, while regularly undergoing training in Europe and the United States.
To develop exports of Belarusian goods and services and to attract investment into the Republic of Belarus, the State Medical Tourism Operator of the Republic of Belarus – Clinics of Belarus – was established under the leadership of the Belarusian Medical Academy of Postgraduate Education, with support from the Belarusian Health Ministry. This operator has been created to ensure maxim proximity of medical services, information and legal support, and creation of comfortable conditions for stay in Belarus.
Its specialists prepare individual programmes of examination, treatment and rehabilitation for foreign citizens, also choosing a medical institution and specialists. If necessary, they provide a preliminary online consultation with specialists, also assisting in issuing visas, meeting foreign citizens and ensuring prompt and comfortable access to health institutions and leading experts in Belarus. They can help in booking accommodation and developing an individual cultural programme.
In the Republic of Belarus, the following types of medical services are offered:
Transplantation
In our modern days, organ and tissue transplantation is the most promising and rapidly developing area of medicine in Belarus. Belarusian transplant doctors use the most advanced organ transplant methods, using the latest scientific achievements, the newest technologies, and new and effective means to avoid organ rejection. This enables patients with a new heart, liver or kidney to live for decades. For the number of organ transplants performed per million citizens, Belarus is ranked first within the CIS and is far ahead of its neighbours.
Cardio surgery
The successes of Belarus' cardio surgeons are well known and have been highly praised by patients and physicians. Innovative methods of minimally invasive surgery on heart and vessels have proven highly efficient and safe. Meanwhile, methods of endovascular surgery utilise global experience, including the use of intracoronary balloon angioplasty and stenting. Cardiac care is growing in quality, with well-established methods of global practice being mastered and successfully applied, in addition to new methods of surgical correction for heart disease.
Leading cardio surgeons of the Cardiology Republican Scientific and Practical Centre and other leading medical institutions offer consultations and conduct operations. These specialists have passed internships with the best global cardiological centres, boasting huge experience of conducting heart operations, of all degrees of complexity.
Neurosurgery
Neurosurgery is a complex and high-tech surgical field, which has moved into absolutely new levels. Modern techniques allow for a differentiated approach and comprehensive assessment of the way forward in treating diseases. They allow us to choose the best solutions, including the application of puncture techniques and minimally invasive operations, as well as radical reconstructive surgeries. Our neurosurgeons use the latest equipment and medical instruments, providing the whole spectrum of neurosurgical operations at a level meeting world standards.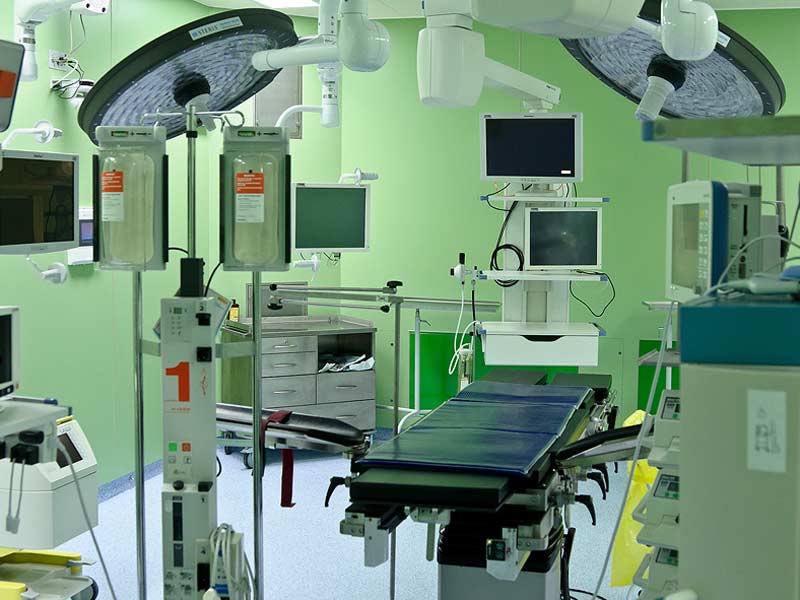 Orthopaedics
Belarus has achieved a level of traumatology and orthopaedics meeting world standards, while the Belarusian school of traumatology and orthopaedics being known far beyond the country. Owing to a well-equipped material-technical base and the introduction of new technologies, the Republican Scientific-Practical Centre of Traumatology and Orthopaedics and other leading clinics provide the whole range of specialised orthopaedic and traumatological help, to adults and to children. They also carry out endoprosthesis replacement and arthroscopy of large joints, surgical treatment of acute and complicated bone trauma, and can operate on spine and spinal cord injuries.
Oncology
The Republic of Belarus conducts diagnosis and successful treatment of oncological diseases, in line with world standards. Diagnostics use the most advanced equipment, enabling highly qualified specialists to detect cancer at an early stage, aiding successful treatment. Belarus' latest diagnostic and research medical equipment, at its leading clinics and medical centres, enables doctors to make accurate and reliable diagnoses, detecting malignant tumours and cancers at initial stages of development. Before treatment, each patient is given consultation, by oncologists, surgeons, onco-gynaecologists, neuro-oncologists, radiologists, and, if necessary, specialists from other medical fields.
Cancer treatment involves successful and effective treatment of cancers of organs, using such methods as chemotherapy, immunotherapy, radiation therapy and surgery (laparoscopy and abdominal surgery, organ-preserving surgery and radical surgery).
Reproductive health
According to statistics, 5-20 percent of couples worldwide suffer from infertility problems (failing to conceive a child within a year of sexual activity). In such cases, both woman and man need to be examined, to determine the cause of the difficulty.
Belarusian specialists are eager to help couples achieve their dream of becoming parents, creating an individual programme of action. Many couples addressing our doctors for help do conceive a child during their period of treatment, either through therapeutic intervention, or assisted reproductive technologies (IVF, IVF or ICSI).
Ophthalmology
Our vision is a wonderful gift, with our eyes providing us with 90 percent of our sensory information. We often fail to notice our eyesight failing. Happily, modern ophthalmology has much advanced and many vision problems can be successfully solved if help is sought promptly.
Republican ophthalmologic centres apply the most complex medical technologies aimed at diagnosing and treatment of refractive errors, diseases and injuries of eyes.
Belarusian ophthalmologists offer comprehensive eye diagnostics at the highest level. They can render the whole range of medical care, including inpatient treatment, using modern medicines and technologies, in comfortable wards.
Accumulated experience and knowledge are widely used for treating such diseases as refractive errors (near-sightedness, farsightedness, and astigmatism), glaucoma, inflammatory eye diseases, retinal disease, cataracts, keratoconus, strabismus, pterygium, spasm of accommodation, chalazion and other eyelid formations, and anomalies in their structure, as well as lacrimation.
Plastic surgery
Belarus offers an arsenal of aesthetic surgical procedures, combining these and other methods to obtain best results. New technologies are being ever sought out, to bring optimal results in cosmetic surgery.
The State Medical Tourism Operator in the Republic of Belarus – Clinics of Belarus – provides information on other specialised medical services rendered at leading clinics and specialised scientific and practical centres of Belarus.