Belarus' social policy prioritises the interests of ordinary citizens and supports people in difficult life situations. Despite global trends, sovereign Belarus has managed to preserve free education and free medical care. Every citizen receives a pension, every mother enjoys financial support on the birth of a child, and every child has access to free education.
Men and women are equal in all spheres in Belarus, including education, work, raising children, receiving of allowances and social guarantees. Moreover, a fair share of remuneration is guaranteed, reflecting the economic results of labour, at a level deemed fitting for a 'normal' life.

Family and children under state protection
State family support is a key direction of state social policy and a foundation of demographic security. According to the census, over 2.7 million families live in Belarus, and 1.2 million of these have children under the age of 18 years.
An efficient system operates regarding legal guarantees and privileges for families with children, involving payment of allowances in connection with the birth and upbringing of children, providing free meals to children aged 0-24 months and other types of state targeted social assistance. Moreover, lump-sum payments are given in cases of the birth of two or more children, in addition to guarantees in the sphere of pensions, labour, tax and housing legislation.
Legal guarantees come into force even before a child is born. Pregnant women receive free medical care and paid maternity leave (126-160 days). A working mother or father, or other relative, is eligible to take leave to provide care for a child until they reach the age of 3 years, with employment guaranteed for return. This leave can be used in whole or in part.
During this period of leave, allowances are paid for child-care (until they turn 3 years old) regardless of parents' employment or income, to virtually all families. Allowances are paid as follows: 35 percent of the average monthly nationwide wage for the first child; 40 percent for the second and subsequent children; 45 percent for a disabled child under the age of 3 years.
Overall, eleven varieties of allowances are applied in relation to childbirth and upbringing. To ensure balanced nutrition within low-income families, the state provides free meals to children aged 0-24 months old. In cases of the birth of two or more children at once, state targeted assistance is provided regardless of family income. All children under 3 years are provided with free medicine.
Families with many children enjoy special state care, with substantial state investments applied to improve living conditions for this category of family and to provide privileged (free) meals at educational establishments.
The system of legal guarantees and privileges for larger families is constantly being improved. In 2015, a major social programme was introduced. Family capital envisages a one-off non-cash payment to families, to the value of US$10,000, at the birth or adoption of a third or subsequent child.
Apart from financial support at legislative level, legal guarantees are provided to families with children, regarding employment, tax and pensions.
Public and religious associations play an important role in strengthening family values and enhancing the prestige of the family.
Belarus is ranked 25th among 179 countries worldwide for offering favourable conditions for motherhood: the best result within the CIS.

State targeted social assistance
In 2001, a system of targeted social assistance was introduced, aiming to provide temporary financial support to low-income individuals and families experiencing difficult situations. It is also designed to ensure the maintenance of income for low-income people, at the level of the living wage on average per capita (hereinafter referred to as the LW).
State targeted social assistance is provided in accordance with Presidential Decree # 41 'On State Social Assistance' as of January 19th, 2012. As part of the targeted assistance system, five social allowances are envisaged, covering a significant number of needy citizens.
In 2014, state targeted social assistance was allocated to 217,800 people, to the value of Br424.8 billion. From January-September 2015, 189,200 Belarusians benefited, receiving Br404.6 billion.

Social protection for the elderly and disabled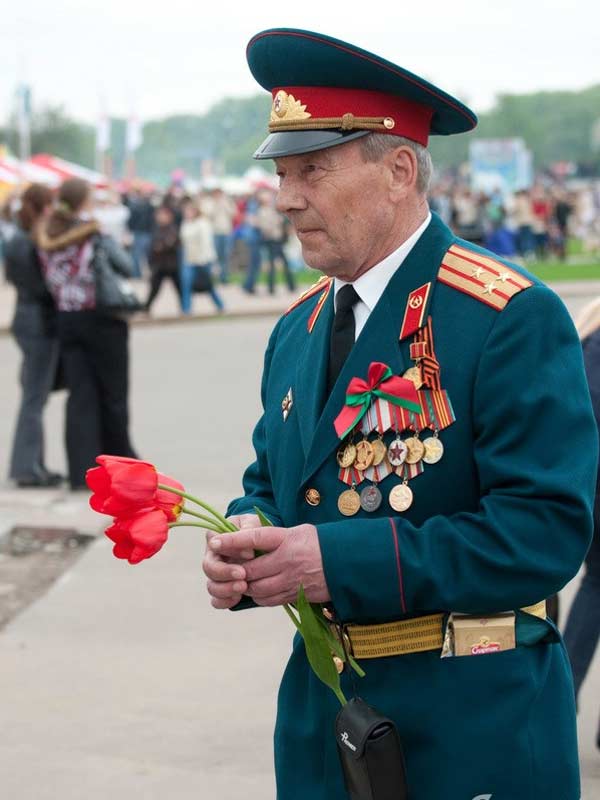 In line with the Constitution of the Republic of Belarus, citizens are guaranteed a pension. At present, almost a third of the Belarusian population receives a pension (over 27 percent).
In the Republic, pensions are paid relating to age, disability, the loss of a breadwinner (including to parentless children), for long service and for outstanding service to the country. The right to a working pension is granted to men on reaching the age of 60 years and to women aged 55 (having fulfilled other provisions stipulated by legislation).
Following social policy, as part of special state programmes, support is rendered to those in need, across various categories of citizen. Assistance is provided in maintaining their standard of living, solving social problems, and offering psycho-social and medical rehabilitation.
Great Patriotic War veterans, the lone elderly and disabled people receive special support. Taking into account surveys of their living conditions and state of health, their needs are met for improved housing conditions, in addition to the technical means of social rehabilitation, home repairs and telephone communication.
War veterans, the aged and the disabled enjoy certain privileges, which include access to sanatoriums run by the Ministry of Labour and Social Protection. There are four state financed sanatoriums (able to accommodate 864 guests). They are open year round and are always fully-booked, welcoming over 16,500 people annually.
All offer access for guests with less mobility. Belaya Vezha, Yaselda and Vyazhuti sanatoriums can accommodate wheelchair users and offer medical facilities for those who are mobility impaired.
Most of the guests are those claiming the right to free sanatorium-spa treatments (mainly disabled categories 1 and 2). With partial payment, the elderly and 3rd category disabled citizens can also receive treatment.
Modern medical equipment makes it possible to ensure high-level treatment. Each sanatorium has its own specialty, offering physical therapy and diagnostic procedures, using the latest medical equipment.
Each is on a rolling-programme of improvement, to ensure that the newest technologies are offered.
From 2009-2015, an additional 223 places were introduced, while the balneary buildings at Belaya Vezha, Berezina and Yaselda sanatoriums were reconstructed. In addition, Berezina's medical building was revamped and a swimming pool constructed at Yaselda.

Social services
Countrywide, social services centres have been established and are developing to meet state social standards. There are 146 such centres, helping individuals and families. Citizens with disabilities are being provided with high quality social services, including home visits, reflecting their individual needs. Home visits are the most popular form of social service, with 87,600 Belarusians receiving such help as of October 1st, 2015. Staff are able to purchase and deliver food, medicines and essential commodities, as well as helping with registration of documents to provide material assistance, and the payment of utility bills.
Meanwhile, 61 around-the-clock departments offer services to 2,173 elderly and disabled persons. There are also 87 daycare centres for the elderly and 152 such centres for people with disabilities – attended regularly by over 4,000 citizens. These daycare centres work to help those with disabilities gain some mobility, teaching techniques to help those with limited movement. Whether living with long-term mobility loss, or degenerative conditions, citizens benefit from becoming more self-sufficient, learning skills to help them retain (or gain) independence. Within such centres, there are 253 rehabilitation and employment workshops, alongside over 1,200 hobby clubs.
Moving with the times, social services are offering new forms of help, including hourly care of small children, and assistance with the care of disabled children for single-parent families. This allows parents vital 'time-off' to catch up on errands or to undertake activities they cannot when accompanied by their child. It's a vital service, enabling carers to return refreshed.
At the initiative of local executive and administrative bodies, the country's regions are introducing new forms of living arrangement for the elderly and for people with disabilities.
Rural areas are widely applying innovative care solutions for the elderly, including homes which offer semi-independent living, and accommodation with 'foster families'.
There are 80 care homes for the elderly and disabled, comprising forty-seven neuropsychiatric homes (12,600 people), twenty-three general homes for the elderly and disabled (4,000 places), and ten institutions for children and young people with disabilities (1,700).
Social services offer help in so many forms: consulting-informational, social-intermediary, social-medical, social-educational, social-residential, social-psychological, and social-rehabilitation among them.
Meanwhile, new forms of social services are being added to meet modern needs:
provision of social services for short stays (up to one month), for the elderly and disabled, on a paid basis;

provision of services for the elderly and disabled to stay in 1-2 bedroom accommodation with en-suite facilities and other additional services, on a paid basis;

social respite services for families with disabled children, to give them a chance to recuperate and settle family issues;

accompanied accommodation for the disabled, to assist them in preparing for independent living outside inpatient facilities and to adapt to conditions of life and work.
As part of an experiment conducted in Minsk, citizens can conclude contracts to receive social services in their own homes, or at nursing homes.
Since 2013, social service legislation in the Republic of Belarus has envisaged a mechanism to attract legal entities and individual entrepreneurs to provide social services and realise social projects.
In 2015, the Belarusian Red Cross Society was the main executor of this state social order, rendering medical and social services to senior citizens and the disabled.

Social rehabilitation of the disabled
Children and adults with disabilities account for 5.8 percent of the Belarusian population. State and society aim to provide social support to the disabled, ensuring their right to dignified living, employment and leisure.
Social protection of the disabled is a priority for the state's social policy. Legislation has been passed relating to disability and a number of state social programmes are being realised. Co-ordinating the policy is the newly-formed Republican Interdepartmental Council on Disability. This comprises top officials from Republican bodies of state administration: dealing with labour and social protection, health, transport, communication, housing and communal services, education, culture, public associations of the disabled and other non-governmental organisations. The Council is headed by Belarus' Deputy Prime Minister.
A vital element in the social protection of the disabled is the maintenance of material assistance, including pension and insurance payments, medical, vocational and social rehabilitation, employment, and provision of technical means of social rehabilitation.
The provision of the technical means of social rehabilitation is essential. In accordance with legislation, those classed as belonging to disability groups I and II are provided with the technical means of social rehabilitation free of charge and on privileged terms, with funding from Republican and local budgets.
The Belarusian Prosthetic and Orthopaedic Rehabilitation Centre Republican Unitary Enterprise (hereinafter referred to as the BPORC) renders orthopaedic assistance to the public, producing over 70 percent of items included on the State Register (List) of Technical Means of Social Rehabilitation. More than 80 percent of its orders are made for registered individuals, to specifications given by medical consultants from the Outpatient Prosthesis Department (of the parent company and from BPORC branches). Over 41,000 people annually receive prosthetic and orthopaedic products in Belarus.
Demands are increasing for persons with disabilities to be able to enjoy full access to their surroundings. State programmes have been working towards this, including the Complex Social Development Programme for 2011-2015 (comprising three sub-programmes: Social Support of Veterans, Persons Affected by War Consequences, the Elderly and Disabled; Prevention of Disability and Rehabilitation of Disabled Persons; and Development of Stationary Establishments of Social Service). There is also a 2011-2015 state programme to create a barrier-free living environment for physically disabled persons.
These state programmes aim to improve the quality of life for those registered as disabled, ensuring their social integration into society through measures to rehabilitate and compensate for disturbed or lost skills, as well as employment. They aim to improve national rehabilitation, teaching people with disabilities creative skills and helping them to participate in physical culture and sport. They also aim to promote unhindered access to social infrastructure, for people with all categories of disability.
The Republic has created technical legislation governing building design (regulations and codes, state standards and technical specifications) to promote a barrier-free environment from the outset. Meanwhile, existing buildings are being adapted to comply with regulations. Such codes are mandatory for all organisations, institutions and enterprises, legal entities and individuals engaged in design and estimate documentation. Failure to comply with norms of access will be enforced through legislation.
Various domestic organisations are now commercially producing lifting platforms for vertical and inclined movement, in addition to side lifts with manual transmission. Meanwhile, prefabricated modular ramps are being manufactured to order.
From 2011 to 2014, over 7,800 sites were updated to create a barrier-free environment. In addition, around a thousand low-floor passenger buses and trolley-buses came into operation, and Belarusian Railways purchased sixteen modern electric and three diesel trains. Access for those with impaired mobility is progressing at Minsk National Airport RUE and on Minsk's metro.
During repair of the existing road network, curbs are being lowered at crossing places, and road signs and traffic lights are being equipped with sound signals.
A system of communication and information support for persons with visual and hearing disabilities is being developed, with leading Republican broadcasting companies working to ensure that all viewers and listeners are able to access information.

Belarusian Women's Union: we're responsible for children's laughter and the happiness of the elderly
Belarus is among the top thirty countries on such indicators as representation of women within legislative bodies and women's participation in decision-making. In the realm of national legislation, 29.7 percent of National Assembly members are women. Meanwhile, among civil servants at all levels, 68.5 percent are female.
Belarusian women are taking an active role in public life, rather than waiting for the state to address their problems. Whether occupying high government positions or looking after the home, women are defending their interests. There are more than thirty public associations for women, with the most authoritative being the Belarusian Women's Union. Established on December 14th, 1991, it has over 180,000 members.
The Belarusian Women's Union promotes women's role in decision-making: their active participation in bringing about a strong and prosperous Belarus. The Union's organisations are established countrywide, in urban and rural areas, at almost every large enterprise, as well as at various labour groups and educational institutions.
The executive body of this public association – the Presidium of the Belarusian Women's Union – includes the most famous women in the country, including those occupying important government positions and heading major business companies.
The purpose of the Union is to assist in protecting the rights and legal interests of women, family and children. It aims to provide women with a decent position in society, enhancing women's role in the socio-political, socio-economic and cultural life of the country.
The Belarusian Women's Union is engaged in protecting the rights of women and children, organising educational and advisory activities, and contributing to strengthening the family. It works to protect and improve women's health, and the quality of life for all Belarusian citizens. In particular, the leadership of the Belarusian Women's Union provides counselling for women and their families on such areas as employment, housing and family law, and the social protection of women and children. It is helping the spiritual and moral revival of society and preserving the cultural heritage of Belarus.
At the initiative of the Belarusian Women's Union, Mother's Day was established, celebrated annually on October 14th. In addition, it has brought about the Business Women of Belarus club, a club of women-scientists, and the Selchanka (Village Woman) Department. Under the auspices of the Union, contests are being held annually to name the 'Woman of the Year' and the 'Best Large Family', honouring women who have achieved success through professional, social and charitable activities, and raising wonderful children. Jointly, with the Ministry of Labour and Social Protection and the Ministry of Health, it organises such charity campaigns as 'Women's Health – Nation's Health', and 'Our Children'.
Another Union activity deals with women's diplomacy: co-operative agreements have been signed and strong working alliances have been established with women in several foreign countries, including Russia, Ukraine, Lithuania, Vietnam, India, Korea, Cuba, Libya and Syria. Jointly with foreign embassies, the 'Women Abroad' information project launched in 2013, focusing on the position of women in society around the globe.

Belarusian Red Cross
2018 sees the 155th anniversary of the founding of the International Red Cross and Red Crescent Movement, which brings together over 400 million people in 176 countries around the world. The only national Red Cross organisation – which assists the state in implementing humanitarian activities countrywide – is the Belarusian Red Cross Society Republican Public Association. It aims to protect and improve the lives and health of vulnerable people by mobilising the humanitarian potential of society and ensuring respect for individuals.
Since 2013, the Ministry of Labour and Social Protection, and local executive and administrative bodies of the Hrodzienskaja voblasć and Viciebskaja voblasć (as part of the 'From Innovation in the Social Sphere to New Quality of Life' project), have joined the Belarusian Red Cross Society in testing a new state mechanism. This aims to provide medical and social services to lonely disabled citizens in Navapolack and Hrodna, in their own homes. Hrodna's Lieninski rajon piloted the scheme.
Last year, over 20,000 volunteers held 3,700 events in Belarus. Six thousand volunteers take the core initiative, making and implementing projects for Belarusian society, and 80 percent of them are young people.
In addition, in the near future, the organisation will gain more Sisters of Mercy (at present, there are 111 of them). In summer 2013, Minsk hosted a solemn ceremony, awarding three Belarusian nurses with the unique Florence Nightingale Medal: Voĺha Hiejcava, Tamara Ciarešyna and Izoĺda Siemušyna. They have dedicated their lives to the care of the seriously ill, needy, lonely and elderly, showing the best of human qualities: kindness, mercy, compassion and empathy.
In 2015, the Red Cross in Minsk provided humanitarian assistance to almost 11,000 citizens.

Society of good hearts: 28 years of kindness and mercy
For decades, thousands of Belarusian children have received help from volunteers of the Belarusian Children's Fund Republican Public Association. In 1988, the Belarusian branch of the Soviet Children's Fund (named after V. Lenin) launched its work and the Belarusian Children's Fund became its successor in 1991. At present, the Belarusian Children's Fund has six regional and seventy-three registered (or listed) district offices in the Republic.
The main objective of this public organisation is to protect the rights and interests of children, providing them with material, moral and other assistance and support. Primarily, it helps orphans and those in family type orphanages, children under guardianship, and children living with disabilities, illness or the effects of the Chernobyl disaster. It also helps talented children reach their potential.
Many programmes operated by the Belarusian Children's Fund have become an integral part of Belarusian society. Special resolutions by Belarus' Council of Ministers have repeatedly been adopted in support of the Belarusian Children's Fund.
The Fund's major programmes are as follows:
Children's Heart: As part of a joint project by the Belarusian Health Ministry and the Children's Heart International Charity Fund (Memphis, the USA), over the past twelve years, the programme has organised twenty-one visits by foreign experts. Led by its medical director, cardio surgeon William Novick, the project has conducted surgery upon 443 children from low-income families, as well as those living in districts affected by the Chernobyl disaster, and the socially vulnerable. Over 1,800 young Belarusians received consultation, with experts from eleven countries taking part, including from the USA, Canada, the UK, Germany, Denmark, Ireland and Russia.
Warm House: At present, forty-one 'family-type houses' operate under its auspices, providing a warm and caring home to over 600 children without parental guardianship. Comfortable cottages have been bought for thirty-six family-type orphanages and five families have received assistance in constructing their own or state-allocated houses. All families are assisted in repairs, as well as in the purchase of furniture and household appliances. The total area of living premises bought by the Belarusian Children's Fund is 8,488.4 square metres, with a total project cost of US$1,419,282 (or over Br12 billion according to the exchange rate as of January 2013).
Rainbow of Hope: Offering rehabilitation and recuperation to children suffering from cancer, since 1992, it has headquartered at Zubrenok National Recuperation Centre. In nineteen years of operation, over 1,500 children have undergone recovery and rehabilitation with the project.
Since 1991, the Belarusian Fund has organised the Our Heats to Sick Children campaign; since 1994, this has been supported by the Belarusian Government and held as the 'Our Children' All-Belarusian action, bringing joy to those celebrating the New Year and Christmas in hospital wards. Employees and volunteers of the Fund visit sick children, organising parties and long-awaited meetings with Father Frost and the Snow Maiden, distributing presents. Every year, over 15,000 children receive gifts from the Belarusian Children's Fund at Christmas and on New Year's Eve.
I See is a new programme for the Fund, assisting children with various eye pathologies.
The law formalizes the terms of the provision of retirement pensions, disability pensions, survivor's pensions, long service pensions, public-service pensions. The right to a retirement pension is given to men who have reached the age of 60 and women who have reached the age of 55.
The state takes special care of war and labor veterans and disabled people. They have a number of benefits, as well as the right to free rehabilitation in sanatoriums of the Ministry of Labor and Social Security. Every year more than 14.500 people reinstate in these sanatoriums.
In the next couple of years it is planned to consolidate the social support of war veterans and lonely people who are not able to take care of themselves. Further development of stationary and non-stationary social service institutions is planned.
Further implementation of the state social policy in regard to disabled people will take place in 2013-2015. The legal framework to address the problems of disabled people will be improved, events to create a barrier-free environment will be carried out. The list of institutions (specialties), where people with disabilities can receive vocational training and higher education will be expanded. One of the goals for the future is the introduction of new technologies and methods of social rehabilitation of disabled people. It is also planned to expand the production of necessary technology with the use of modern equipment, components and materials.