Rowing in Belarus remains extremely popular. In the second half of the 20th century, Belarusians led Soviet racing crews, regularly winning gold Olympic medals. Belarusian rowers have hailed from Minsk, Brest, Homieĺ, Slonim and Rahačoŭ, with the most successful being those in the kayak-canoe rowing. Since gaining independence, Belarus has found victory in the arms of Kaciaryna Chadatovič-Karsten.
As part of Soviet national teams, Belarusian rowers won eleven Olympic gold medals!
Fans' favourites
Rowing occupies a special place in the contemporary sporting history of Belarus, with our athletes winning awards in every competition in which they participate, including at the Olympic Games.
Belarus' Olympic rowing success is only superseded by that of track-and-field athletics. Across five Olympic Games (Atlanta-1996, Sydney-2000, Athenes-2004, Beijing-2008, and London-2012), our rowers won fourteen medals, of which four were gold.
Such successes make Belarusian rowers heroes in the eyes of fans and draw attention to this sport. The state has given its support, funding the building of two modern rowing centres, in Brest and Zaslaŭje, able to host competitions of the highest level, including World Championships.
Kaciaryna the Great
Lieanid Hiejštar from Homieĺ and Siarhiej Makaranka from Brest were Belarus' first Olympic rowing champions, taking gold at the 1960 Olympics in Rome (Italy), in the 1000m canoe-pair, a full 3.73 seconds ahead of the Italians.
Uladzimir Parfianovič was one of the main heroes of the 1980 Olympics, in Moscow, claiming three gold medals: in the 500m canoe-singles and in the canoe-pairs, over 500m and 1000m.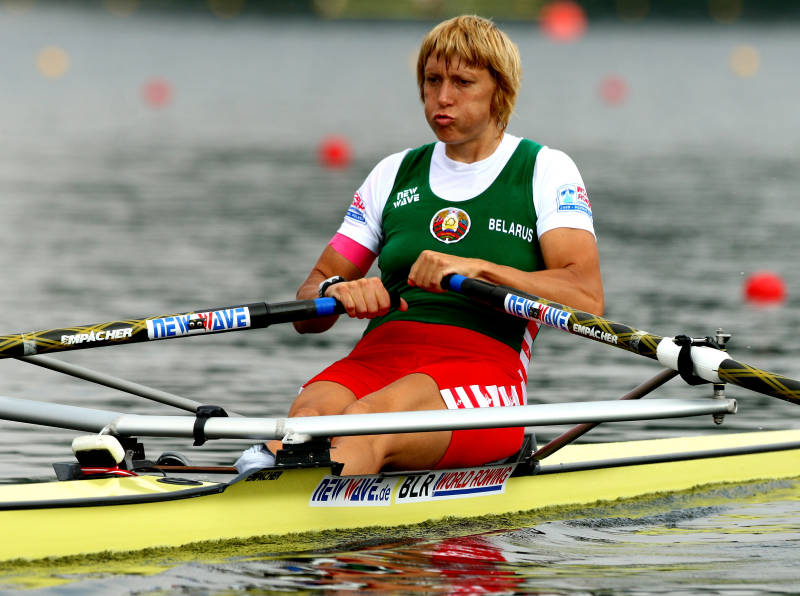 The main star of Belarusian rowing is, certainly, Kaciaryna Chadatovič-Karsten, or, as fans call her, 'Kaciaryna the Great'. The well-known athlete was born in vioska Asiečyna, in the Krupski rajon, in the Minskaja voblasć, and has competed at six Olympics, her first being the 1992 Barcelona Games. At five, she won medals, including two gold awards in single scull (in Atlanta, in 1996, and at the 2000 Sydney Games). Kaciaryna saw disappointment at the London Games, where she took fifth place, losing out on an Olympic medal for the first time in two decades. As discovered later, Kaciaryna was suffering from a broken rib.
She is a six-time world champion and has been awarded the Order of the Fatherland across three classes, as well as the Order of Honour.
Brothers Aliaksandr and Andrej Bahdanovičs are canoe-pair legends, winning Olympic gold in Beijing in 2008 and silver at the London Olympics in 2012. Kayak pair pair Aliaksiej Pietrušenka and Vadzim Machnieŭ are no less famous, having claimed four Olympic medals (across three Olympic Games) and seven world championship titles.
Two world rowing championships to be held in Belarus
Belarus boasts two modern rowing centres of international level: Brest Regional Olympic Reserve Centre for Rowing, constructed in 2007; and the Republican Centre of Olympic Training for Rowing Sports, in Zaslaŭje.
Excellent facilities, together with international Belarusian rowing success, have allowed Belarus to apply to host competitions of the highest level. Our country has already hosted the European Rowing Championship (in Brest, in 2009), as well as the World Rowing Championship (U23, Brest, 2010), and the European Rowing Junior Championship (Zaslaŭje, 2013).
In 2014, Zaslaŭje hosted the World University Canoe Sprint Championships, followed in 2016 by the ICF Junior & U23 Canoe Sprint World Championships.