Volleyball won national love from the outset, quickly gaining amateur popularity. In 1935, Belarus had about a thousand volleyball courts, accounting for almost half of all sports constructions countrywide! By the beginning of 1941, their number had increased 15-fold, to about 15,000, with every child learning how to play. Officially, by the early 1940s, about 50,000 people were playing volleyball regularly.
People in Belarus first learnt about volleyball in mid 1920s, with volleyball sections being soon formed in Minsk and other large cities of the country. The actors of the Kupala Theatre were known to be major fans, often coming late to rehearsals due to having been attending games, as theatre documents from 1928 note.
After WWII, interest in volleyball continued to grow. Minsk gained three courts: in the Central Park of Culture and Leisure (named after Gorky), and at the entrance to Dinamo Stadium and to Spartak Stadium.
Belarusian teams took part in championships and USSR Cups, though without huge success. Only in the late 1970s did the first serious victories arrive: in 1977, Homieĺ's Promstroy won the USSR Cup, and, one year later, the same trophy went to Minsk Motor.
Within ten years, women's teams became successful. Minsk's Kommunalnik took bronze in the USSR championships in 1986, and in 1988, while 1987 saw them win the CEV Cup Winners' Cup, given by the European Volleyball Confederation.
Sovereign steps to elite
Volleyball is among the most popular team games at present, behind football, ice hockey, handball and basketball. Nevertheless, each team has its fans, with many amateur clubs and informal tournaments, including those between business companies.
After Belarus became independent, the country formed its national teams, and began organising national championships, for men and women. Stroitel, from Minsk, has won four championship titles in succession. Meanwhile, Belarus' Shakhtyor, from Salihorsk, has appeared in the Russian championship.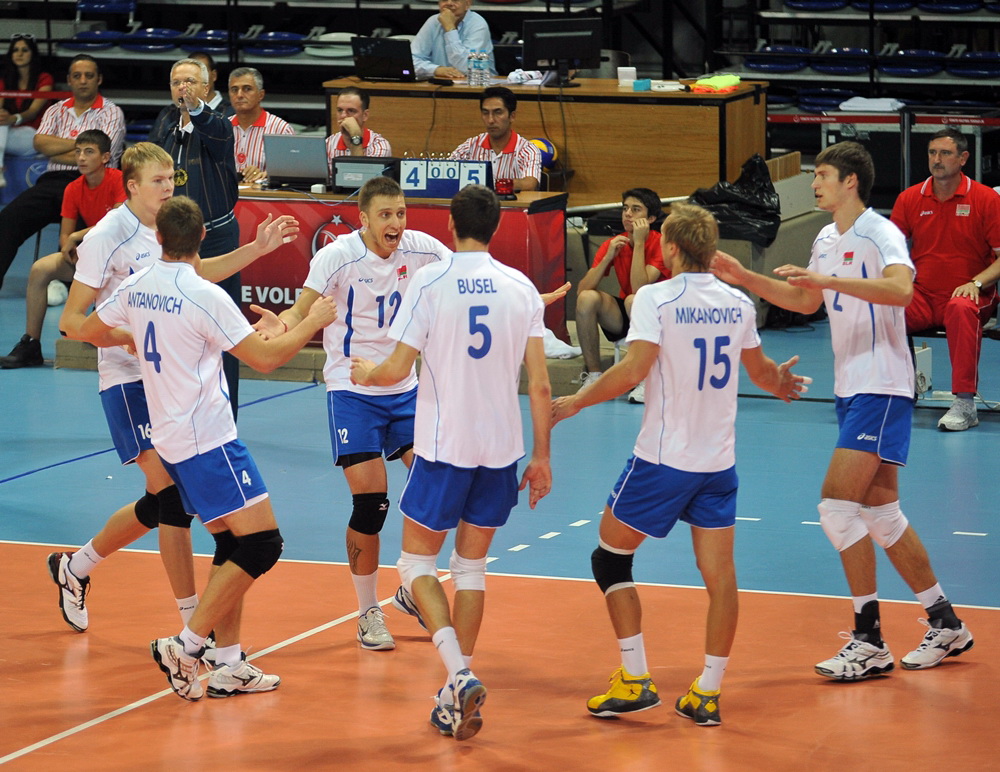 The most titled men's volleyball club in Belarus is Hrodna's Kommunalshchik, with five victories in the national championship. For women, Minsk's Kommunalnik (later renamed Amkodor) saw most success, winning eight championship titles. Sadly, in 1999, it was disbanded for financial reasons. Today, Atlant, from Baranavičy, has won the national championships five times in the past eight years.
Belarusian teams are yet to enter the elite of European volleyball, but are on their way. The highest achievement for the women's national team has been eighth place at the European Championship, in 1993 and in 1995. Belarusians are yet to attend the Olympic Games or the World Championship finals but the men's national team went through to the 2013 European Championship, hosted by Denmark and Poland.
Belarusian coach for Russia
One of the most well-known Belarusians in volleyball is Uladzimir Aliakno, from Polack, who began playing volleyball when he was ten years old. By the age of fourteen, he'd entered Minsk's sports boarding school.
His career began by playing for Minsk SKA. Then, in 1988, he moved to Russia's strongest club, CSKA, twice helping it take the Soviet championship title, as well as that of the Union Cup and the European Champions Cup.
Then Aliakno moved to Bulgarian Levski, helping it become Bulgarian champion. Uladzimir also played in Italy and France, as part of French Cannes club, which became champion and took the French Cup.
As coach, he has worked with French Tours, Russian Dinamo and Zenit. He was twice appointed head coach of Russia's national team, in 2007 and 2010. Under his leadership, the national team of Russia won gold medals at the London Olympics, for the first time since 1980.