The most ancient Belarusian town – Polotsk – is located in the Vitebsk Region. For the first time Polotsk was mentioned in chronicles in 862. The Belarusian national identity was formed there. Polotsk gave Belarus and the world dozens of outstanding historical characters: the legendary Vseslav Charodey, Duke Rogvolod and his daughter Rogneda, the venerable Efrosinya Polotskaya, the first printer Francisk Skorina and the enlightener and pedagogue Simeon Polotsky. The National Historical Museum-Reserve which includes 11 museums functions in Polotsk. The town with dozens of fabulous historical monuments is an open air museum.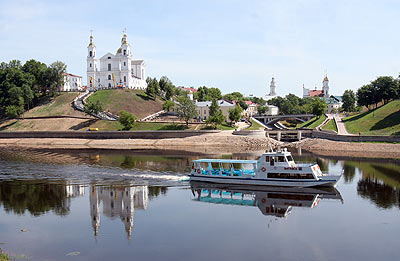 Vitebsk is called the city of artists. The world famous artists Ilya Repin, Yuri Pen, Marc Chagall, Kazimir Malevich lived and worked here. The most famous native of Vitebsk is the graphic designer and painter, one of the leaders of world avant-garde Marc Chagall. Monuments are established, the Art Center of Marc Chagall was opened and a house-museum is functioning in his honor. International Chagall days and plein airs are organized in Vitebsk.
The trademark of Vitebsk is the International Arts Festival "Slavonic Bazaar".
The museum-estate of the great Russian artist Ilya Repin "Zdravnevo" is located not far from Vitebsk.