Mountain skiing leisure
Winter turns our thoughts to skiing: to the beauty of picturesque slopes in the Austrian, Italian and French mountains. However, such trips can be expensive, especially once ski hire, accommodation and food are factored in, plus flights and insurance.
However, there's no need to despair, as Belarus' ski resorts rival those of Europe, offering not only downhill skiing but sledding, skating and snowboarding.
With each year, skiing is becoming more and more popular in Belarus, despite the lack of mountains. There are enough steep gullies, slopes and hills suitable for snowboarding and skiing, and at much more affordable prices.
Belarus has a mild winter climate and no risk of avalanche. Holiday-makers note its perfectly equipped tracks, comfortable hotels, tasty national cuisine and affordable prices for ski hire.
Popular ski resorts in Belarus
Ski resorts in Belarus offer local residents and guests everything necessary for a wonderful time: tracks varied in complexity (suitable for professionals and beginners), cosy hotels, wonderful restaurants and cafes, and spa facilities. Moreover, Belarusian ski centres are known for their good value. The most famous leisure zones are located in Minsk and in its suburbs, as well as in the Homieĺskaja voblasć and Viciebskaja voblasć.
Siličy (Silichy) Ski Resort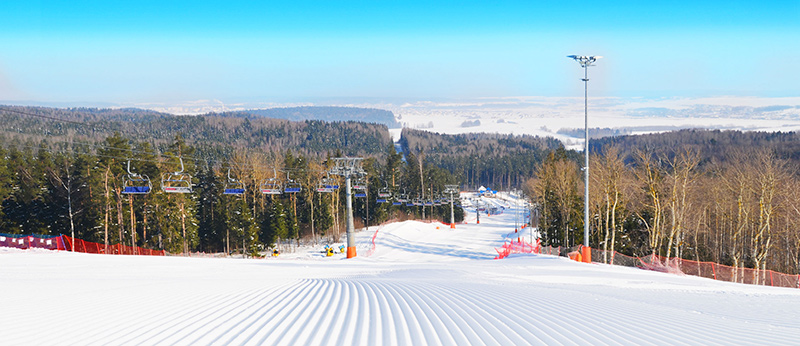 Contemporary Siličy (Silichy) Ski Resort is rightfully considered to be Belarus' calling card. Built among picturesque hills, it can rival leading resorts in France, Italy and Austria, in beauty and facilities.
The centre opened in 2005, 32km from Minsk, in the Lahojski rajon. The complex is known for its well-developed infrastructure and welcomes holidaymakers all through the year.
In winter, the ski centre offers:
four tracks, of various degree of complexity, varying from 620m to 900m in length, and difference in elevation of up to 100m;

a ski lift;

ski tracks for beginners and children;

tracks for sledges, snowmobiles, cross-country skiing and tubing;

an extreme-zone (a half-pipe, a snow park and trampolines);

a training point where beginners are taught to ski;

a gym;

a ski equipment hire centre;

a skating rink;

children's outdoor play equipment;

a hotel able to accommodate 104 guests;

self-catering cottages;

cafes and restaurants;

a medical clinic;


a sauna and treatments.
In summer, the following services are available:
open tennis courts;

grounds with universal covering, suitable for football, basketball and volleyball;

an equipment hire centre, with rollerblades, table tennis and badminton equipment, bicycles, and roller skis;

paintball venues,

a kitchen truck;


a carting centre, with two open tracks (one 400m and the other 50m long).
Lahojsk (Logoisk) Ski Centre
Lahojsk (Logoisk) Ski Centre is located 30km from Minsk. Its four illuminated tracks have a total length of almost 4km, with an elevation difference of 82m, and allowing rapid descent. There's a four-seat lift, able to handle up to 2,000 people per hour and a bar lift.
Regardless of weather conditions, Logoisk offers an even and deep layer of snow, ensured by a powerful artificial snow-making machine. The length of the training slope is 120m, with an incline elevation of just 11m.
Holidaymakers can hire mountain ski equipment, as well as sledges, and go 'veselaya vatrushka' tubing. There's a hotel (accommodating 48), guest houses, a restaurant, a bar and parking.
In addition, you can choose to roller ski, play billiards or tennis, relax in the sauna, play paintball or volleyball, or try mini-football.
Soniečnaja Dalina (Solnechnaya Dolina) Ski Centre
Soniečnaja Dalina (Solnechnaya Dolina) has an unusual location, within the suburbs of the city of Minsk, on the bank of Lošyca reservoir. In winter, you can mountain and cross-country ski, or go tubing, snowboarding or skating. Meanwhile, in summer, you can sail a catamaran or dinghy, drive a quad-bike, or go cycling walk or roller-skating.
The ski centre offers two slopes for skiing: one for training (125m long) and the main one (215m long). It has bar lifts, a snow park for extreme sports, a restaurant, a café, and parking.
Raŭbičy (Raubichi) Republican Winter Sports Centre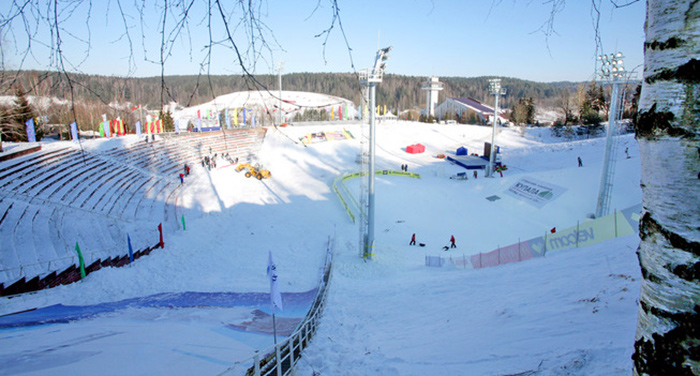 The Republican Centre of Olympic Training in Winter Sports is situated just 20km from Minsk and is rightfully considered to be one of the world's best for biathlon and freestyle. It offers wide opportunities for skiing, for beginners and professionals.

Sports and Fitness Centre in Mazyr
The combination of hills at Mazyrskaja and the lowlands near the banks of the River Prypiać ensure popularity for the ski complex in Mazyr. Visitors have access to professional and training slopes, for skiing and snowboarding, a bar lift, a tubing slope, a hire point (offering sport equipment, snowmobiles, and quad-bikes, plus motorboats and jet skis, for the River Prypiać, in summer), 'Toboggan Sledging', a skating rink, a mini-football pitch, tennis courts and a café.