In view of the rapidly increasing popularity of eco-tourism, residents of Belarus and foreign guests are often keen to spend time at one of the country's water reservoirs. Belarus boats significant potential for the development of water tourism, having so many fast-flowing rivers and endless blue lakes.
Kayaks, canoes, rafts and catamarans are available for hire, requiring a certain degree of physical fitness, although there are six categories of complexity for river rafting. The first three are for experienced sportsmen only, while others are better for corporate events, birthdays or weekend family outings. Those requiring an enhanced degree of co-ordination, endurance and reaction are called 4th, 5th and 6th degree.
The most popular choices are:
Kayaking
Three types of kayaks exist: inflatable, frame-folding and frame-inflatable, with single and double-seater models.
Canoeing
For traversing turbulent rivers, this involves controlled kneeling, using a single-blade paddle.
Catamaraning
Catamarans are used for rivers, with modified versions allowing faster speeds.
Rafting
Of various constructions, driven by the current, so speeds are contained, rafts come in several varieties.
The closest rafting sites to Minsk are those on the rivers Jaršoŭka, Islač, Uzlianka-Naračanka, Vilija and Zachodniaja Biarezina. There are few obstacles and the forest landscapes are dazzling in their wild beauty. You can swim easily from the riverbanks and enjoy comfortable camping sites.
Water tourism continues to develop in Belarus. Although a great many reservoirs and adjacent territories have been set up for recreation, more are being investigated.
There are around 2,000km of waterways across the Republic of Belarus, with cruising offered on the rivers Dniapro, Sož, Biarezina, Prypiać, Nioman, and Zachodniaja Dzvina and along the Dniaproŭska-buhski kanal.
The water transport system has more than 700 vessels, including passenger, tows, motorboats, supply ships and dredgers.
In total, the country has:

ten river ports (Brest, Mikaševičy, Pinsk, Rečyca, Mazyr, Homieĺ, Mahilioŭ, Babrujsk, Hrodna, and Viciebsk);

three waterway enterprises (Homieĺ, Mazyr, Pinsk, and Babrujsk); and


three shipbuilding and ship-repair plants (Homieĺ, Rečyca, and Pinsk).
Around 2,500 people work within the river fleet.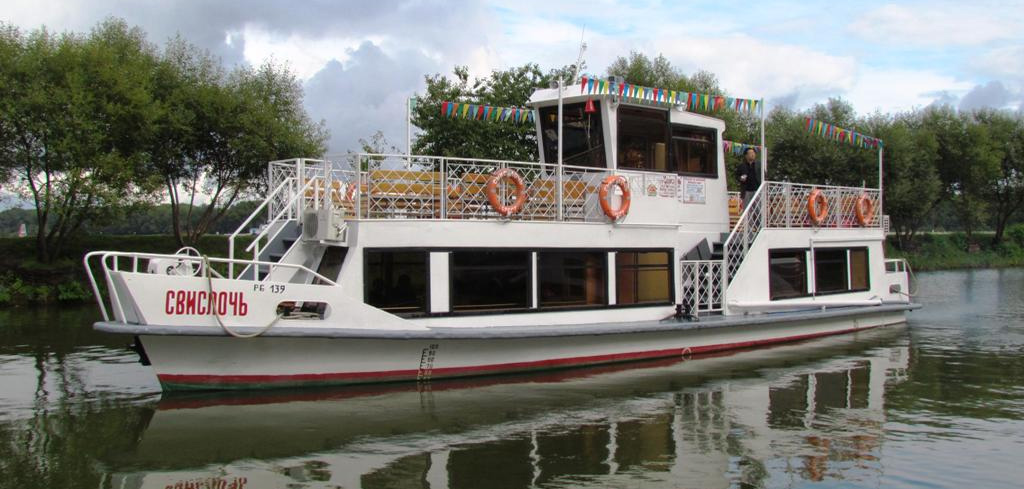 During the warm season, cruising is popular, including stops at Belarusian sights in Brest, Viciebsk, Hrodna, Homieĺ, Mahilioŭ, Babrujsk, Mazyr and Pinsk, and visiting the Prypiacki (Pripyatsky), Naračanski (Narochansky), and Braslaŭskija aziory (Braslav Lakes) national parks, Minskaje mora and voz. Vyhanaščanskaje.

A water tram, seating twelve, regularly runs along the famous Aŭhustoŭski kanal, while Turaŭ has its Paliessie floating hotel, on the bank of the River Prypiać, with eight cabins. A motorboat makes three-day trips along six routes.