The education system in Belarus
Education is strategic state resource

Belarus is among those countries with a very high Human Development Index. The literacy rate of Belarus' adult population has always been one of the highest in the world and currently stands at 99.7 percent. Meanwhile, 98 percent of people have basic, general secondary and vocational education. In terms of admission of children to primary and secondary school, Belarus stands among the most developed countries. In recent years, the state has allocated the education system at least 5 percent of GDP: a figure rivalling the volume of funding for education in developed European countries.
Overall, the country has over 8,000 establishments of primary, additional and special education – attended by around 3m children, students and listeners. These are taught by over 400,000 people – accounting for 10 percent of those engaged into the economy.
The education system of the Republic of Belarus
The education system of Belarus envisages education at primary level, as well as additional and special education. Primary education includes pre-school, general secondary, vocational, secondary special, higher and postgraduate education.
Additional education is subdivided for additional education of children and young people, and additional education of adults.
Belarus' classification of its educational levels meets the International Standard Classification of Education (ISCED 2011). Accordingly, the country ensures the 'lifelong learning' principle.
In the ranking of the Human Development Index, Belarus is among the top thirty developed countries, and demonstrates the best result among CIS countries (14th position, shared jointly with Japan and Latvia).
As regards the Education Index, the composite indicator of the UN Development Programme (UNDP), Belarus is ranked 21st.
In Belarus, the ratio of students to total population is among the highest in Europe.
In 2015, the Republic of Belarus joined the European Higher Education Area (Bologna Process), giving indication of the high quality of education in the country.
Preschool education
Belarus has a well-developed system of preschool education. Although it is not compulsory, most children attend preschool institutions: 74.4 percent of 1-6-year-olds currently attend preschool educational establishments, of which 49.7 percent attend in rural areas and 81.4 percent in urban.
For the 2015/2016 school year, 3,972 preschool educational establishments were operational in Belarus, including eleven private-run, and the number of attending children stood at 410,500.
General secondary education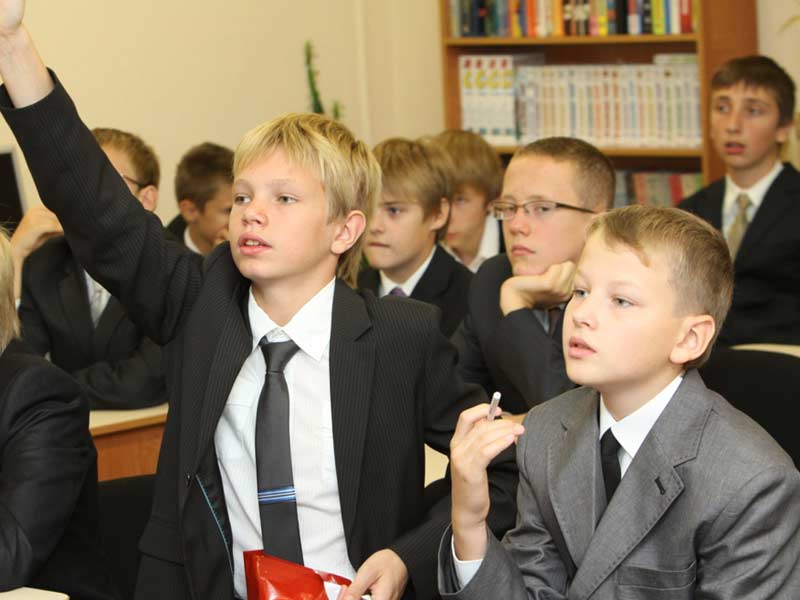 General secondary education in Belarus starts at the age of 6 years and includes two levels: general basic and general secondary. The basic school course lasts for nine years and secondary for eleven. On successfully graduating from basic school, young people have the opportunity to continue their education at college, high school or vocational school, simultaneously receiving secondary education and professional training. Those interested can receive general secondary education at school. The certificate of general secondary or secondary special education is the basic document enabling young people to enrol in a higher educational establishment.
For the 2015/2016 school year, 3,233 establishments of general secondary education were operational (including ten privately-run) attended by 964,900 students in all.
Among the latest trends in general secondary education is the introduction of profile training in high school. General secondary education already widely uses modern information technologies but some gymnasiums and schools have now piloted the introduction of electronic journals, and a 'cloud' information-educational environment of high-quality resources and services, using modern technical media.
Between 2010 and 2015, international subject Olympiads for schoolchildren saw Belarus win 199 medals (20 gold, 76 silver and 103 bronze).
Special education
The Republic of Belarus has made good progress in provision for children with various needs regarding psycho-physical development.
The system provides not only education, but accompaniment, rehabilitation, correctional and educational assistance and upbringing for children at all stages of their socialisation and all age groups (99.2 percent).
Over 70 percent of children with psycho-physical development challenges are integrated into preschool and general secondary education establishments. At present, 240 special educational establishments operate as resource centres, offering material, informational and methodological support, to enhance the quality of special education, and the training of teachers working with these children.
Professional-technical and secondary special education
Belarus is proud of its system of professional and secondary special education which, unlike other post-Soviet countries, has been preserved and operates successfully. Our experience is used in Russia and other states.
Professional-technical education includes 166 institutions of vocational training (professional lyceums, vocational schools, professional-technical colleges and vocational schools) and forty educational institutions of other kinds. These offer professional-technical training programmes, with an annual graduation of around 35,000 people, across almost 300 professions.
Secondary special education includes 119 secondary special education colleges, including twelve privately-run, in addition to ninety-four educational establishments of other types. These offer secondary special education, annually graduating around 40,000 people, across various specialities.
Higher education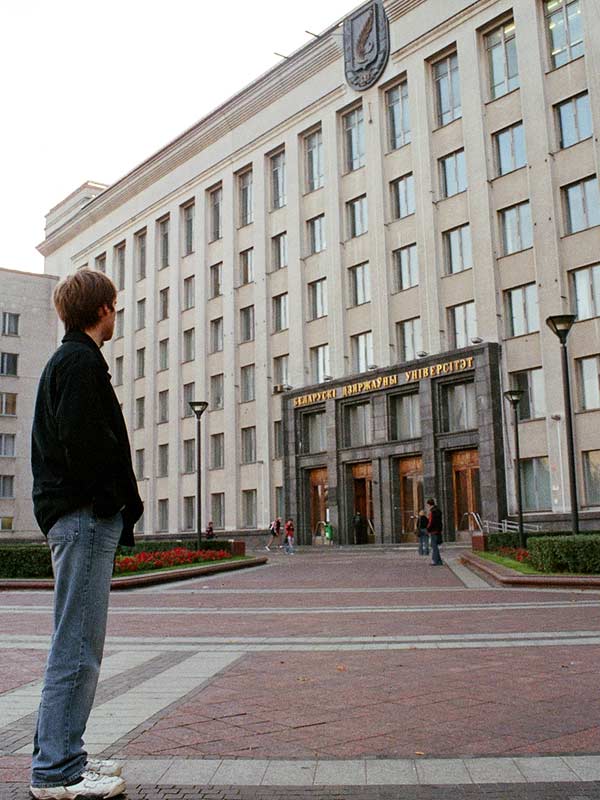 Higher education includes fifty-two higher educational establishments (universities, academies, institutes), including nine privately-run. Over 80,000 students graduate annually.
There are fifteen profiles of education, including 382 higher education first stage specialties and 331 second stage.
Higher education in the Republic of Belarus can be obtained full-time (day or evening), or by correspondence / distance learning. Courses are offered in both Russian and Belarusian languages, and in English for foreign citizens.
Post-graduate science qualifications are offered at 119 Belarusian organisations, across 430 specialities, and fifty-six of these have doctorate courses.
Our national establishments of higher education co-operate with over 300 domestic enterprises, and export sci-tech goods to more than thirty countries – including France, Finland, Austria, Belgium, Poland, the Czech Republic, the UK, Latvia, Lithuania, the USA, and Korea.
Higher educational establishments across the regions
In 2012, at the initiative of the Education Ministry, the Centre for International Co-operation in Education was established, as part of the Republican Institute of Higher School State Educational Establishments (hereinafter referred to as the Centre). It promotes consultation for foreign citizens wishing to study in the Republic of Belarus, seeks out foreign partners interested in sending citizens to train in the Republic of Belarus, and distributes information on educational services at Belarusian establishments of higher education to foreign citizens.
The Centre is authorised to conduct activities to attract foreign citizens for study at Belarusian educational institutions, as well as to find partners providing intermediary services abroad, to select foreign students. The Centre also co-ordinates international co-operation between higher educational establishments in Belarus and those abroad.
The procedure for admission of foreign citizens and stateless persons into higher educational establishments
Foreign citizens can enrol in higher education institutions to receive education:
where funded by a state budget, according to international agreements with the Republic of Belarus;

where willing to pay fees, and having gained final certification from the curriculum programme prepared for those wishing to enter higher educational establishments; or

where willing to pay fees, and having passed an interview to establish proficiency in the language used in the educational process.

A video about the opportunities of education in Belarus for foreign citizens can be found here.
The order of enrolment for citizens of Russia, Kazakhstan, Kyrgyzstan and Tajikistan
In line with the Agreement on Granting Equal Rights to Citizens of Member States of the Treaty on Deepening Integration in Economic and Humanitarian Areas, signed on March 29th, 1996, citizens of Russia, Kazakhstan, Kyrgyzstan and Tajikistan enjoy equal rights with citizens of the Republic of Belarus regarding access to higher and secondary special education. They can participate in competition for places allocated to Belarusian citizens, either paying fees privately, or via state funding.
Belarusians abroad (Lithuania, Latvia, Poland)
Inter-ministerial agreements in the field of education govern enrolment of Belarusians who are also citizens of the Republic of Lithuania, the Republic of Latvia or the Republic of Poland and/or who reside on their territory. Belarus' Education Ministry has set mechanisms for enrolment, and for criteria to be met.
Mechanism of enrolment
The Education Ministry of the Republic of Belarus accepts the above-mentioned categories of citizens for study at Belarus' higher educational establishments. The exceptions are those affiliated to the military, and those with art and musical focus. It assesses candidates' eligibility based on files provided by Belarusian public organisations: the Association of Belarusian Public Organisations in Lithuania, the Union of Belarusians of Latvia, and the Belarusian Public-Cultural Association in Poland.
Enrolment of Belarusians from abroad for study in Belarus is conducted in line with the following quotas:
from the Republic of Lithuania – 20 persons;

from the Republic of Latvia – 10 persons;

from the Republic of Poland – 40 persons.

Meanwhile, no more than two from each country are admitted to a single speciality.
If the number of applications exceeds the quota, the above-mentioned Belarusian public organisations liaise with the educational establishments at which representatives of the Belarusian diaspora study. They then select the chosen students, following the Rules of Admission to Higher Educational Establishments, as approved by Belarusian Presidential Decree #80, as of February 7th, 2006 (taking into consideration amendments and additions). Tests may be given on major subjects, in addition to assessing Belarusian and Russian language skills.
Criteria for admission
Personal files must include a list of documents envisaged by the Rules – including confirmation of candidates' Belarusian nationality (the birth certificate of a candidate or one of their parents).
The average mark of general education and marks for the two major subjects must be:

For those from the Republic of Lithuania – at least 7 points;

For those from the Republic of Latvia – at least 7 points;

For those from the Republic of Poland – at least 4 points.

Until April 15th of each year, the Ministry accepts preliminary lists of candidates for study in the Republic of Belarus, with specification of higher educational establishments and chosen specialities. Individual candidates' files may be submitted by July 13th.
Until July 16th, the Ministry oversees the sending of individual files to higher educational establishments subordinate to the Ministry, in addition to bodies of state management which oversee higher educational establishments, to register candidates as students.
Note: all documents must be translated into Belarusian or Russian, verified by heads of corresponding establishments.
Additional education of children and youth
The national system of additional education for children and youth comprises 318 institutions (three Republican and 315 regional).
Of these, 133 institutions offer single focus: four are centred on artistic subjects, seventeen have an artistic profile, twenty-four have ecological focus, sixty-two teach tourism and local history, twenty specialise in physical sports. Meanwhile, 185 offer more than one subject.
Establishments of additional education for children and youth unite over 30,000 clubs of interest. Almost every third student currently attends an establishment of additional education for children and youth. Such establishments include 284 troupes boasting the title of 'Honoured', 'Exemplary' or 'People's'.
Additional adult education
In all, 400 educational institutions provide additional education for adults, offering professional training, retraining and qualification improvement.
Around 380,000 people annually master educational programmes of additional education. Qualification improvement for managers and professionals is organised across fifteen spheres, while retraining covers 402 specialities. Continuing professional education is carried out across 3,500 professional categories, at educational establishments and other organisations.