Types of tourism
Gastronomic tourism
Cultural and educational tourism
City breaks
Eco-tourism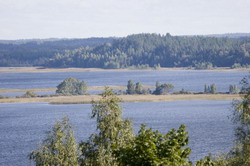 Belarus' untouched nature, unique forests and marshes attract those keen on ecological tourism from all over the world. Four national parks operate in the country: the Bielaviežskaja pušča (Belovezhskaya Pushcha), the Braslaŭskija aziory (Braslav Lakes), the Prypiacki (Pripyatsky), and the Naračanski (Narochansky). Biarezinski (Berezinsky) Biosphere Reserve is also a state protected area and an interesting tourist complex. There is also a system of specially protected nature territories, including eighty-five Republican reserves and 348 local reserves, as well as 305 natural monuments of state level and 542 monuments of regional level.
All national parks offer tourists eco-hiking paths. It's easy to fall in love with Belarusian nature once you've walked within the Blakitnyja aziory (Blue lakes), breathed in the fragrance of forest pines, admired the lakes of Bolduksky or climbed the tower near tiny Lake Hlubieĺka.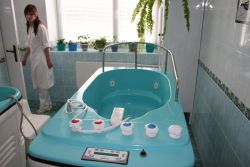 With its healing mineral waters and therapeutic mud, Belarus attracts those seeking relaxation and spa-breaks, wishing to recuperate and improve their health. Belarus has a well-developed system of sanatoriums, specialising in the treatment of blood circulatory diseases, as well as digestive and nervous system disorders, and those of the musculoskeletal system and connective tissues, and the respiratory system. Some specialise in treating problems relating to the female reproductive system and urogenital disorders, as well as cardiovascular and endocrine systems, locomotor apparatus, the skin and eyes.
Belarusian sanatoriums are equipped with the latest diagnostic and therapeutic equipment. There are about thirty infirmaries.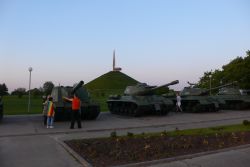 The geographical position of Belarus, at the centre of Europe, and at the intersection of trade and military routes, has often turned the country into a battleground. In the Northern War, many Belarusian castles were damaged and legendary Safijski (St. Sophia) Cathedral, in Polack, was blown up. For over two and a half years, the front of World War I passed through the territory of modern Belarus: through the Miadzieĺski rajon, the Viliejski rajon and the Smarhonski rajon. Belarus hosts WWI Russian and German cemeteries.
Much material evidence remains of the war: concrete fortifications and earthworks, half-ruined stone bridges over rivers and narrow-gauge railways, built by German military engineers to advance deep into the Russian Empire.
In memory of those killed in World War II, magnificent memorials have been created: at Brest Fortress; on the site of burnt vioska Chatyń (Khatyn village); and in Bujničskaje field, near Mahilioŭ. Some tourists come to tour the sites of dramatic military events, and to pay their respects. The only memorial dedicated to WWI is located in the village of Zabroddzie, not far from Narač. For many years, artist Barys Citovič was engaged in its creation. A wooden Orthodox Barysahliebskaja (St. Boris and Gleb) sacellum was built in Zabroddzie in honour of those who died in battle during the First and Second World Wars. A monument to soldiers of WWI was established in the forest near the village. Commemoration of the soldiers of both world wars takes place in Zabroddzie every year, on May 9th.
Churches of Belarus are of particular interest for fans of history and architecture. As the site of the European 'crossroads', Belarus is home to Catholic churches, Orthodox churches, synagogues, Tatar mosques, and wooden churches of Old Believers, encouraging religious tourism. Each year, thousands of pilgrims visit the largest Orthodox monastery in Belarus, the Uśpienski (Holy Dormition) Monastery in Žyrovičy, where the miraculous Žyrovickaja Mother of God icon is kept.
The memorial day of Juravičskaja Mother of God is celebrated on September 13th, with a procession from Mazyr to Juravičy in honour of the wondrous image. Every year, in early July, thousands of pilgrims head to the modest village of Budslaŭ, where the Budslaŭskaja icon of the Mother of God is kept, in the magnificent baroque church.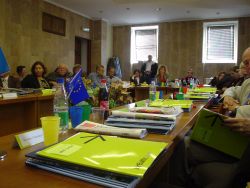 Travellers visit the country not only to see its monuments and its beautiful landscapes but to meet with business partners, to visit exhibitions and to conduct seminars. Business tourism is thriving in Belarus, with hotels offering well-priced accommodation and a range of services: Internet in bedrooms, restaurants, swimming pools, attendant parking, provision of airplane and railway tickets, and currency exchange, for example.
The geographical position of Belarus is a trump card for the development of business tourism. It's so convenient to hold international exhibitions, business symposiums, conferences and business meetings at the centre of Europe. The new building of the National Library of Belarus, with its twenty study halls, and about 14 million printed publications across twenty-five floors, is a great venue. It's home to about 70,000 rare books and manuscripts and hosts art and photo exhibitions, as well as a unique book museum, an Internet centre, an international press centre and a conference hall, able to seat 450 people.
Once business meetings are concluded, delegations can head to the countryside, to visit rural homesteads.
Genealogical tourism is a popular choice with CIS residents, as well as residents of Poland and Israel. It's exciting to return to the place where one's ancestors lived, seeking out relatives' graves and even meeting people who remember our parents or grandparents as children.
Rural tourism offers the chance of connecting with our roots, and seeing how each Belarusian region differs. It's a breath of fresh air to submerge ourselves in a slower pace of life, as enjoyed by our grandparents, and their own parents. Deep in the Belarusian countryside, you can feel the spirit of eternity in freshly cut grass and hay, stored in a hayloft, freshly baked bread and flower-filled meadows.
How wonderful it is to drink new milk, to eat homemade cottage cheese, and to enjoy a freshly laid egg. Agricultural tourism is booming in Belarus, with around 1,500 rural households countrywide. Most are located in picturesque areas, near rivers, lakes and forests; their owners provide accommodation, while arranging excursions around the local area.
Catalogue of Farmsteads of JSC Belagroprombank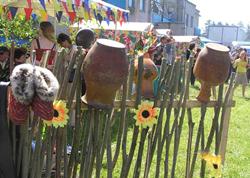 Many Belarusian rural homesteads host festivals, attracting those keen on event tourism. 'Zaborski Fest' celebrates rural tourism while the Rasonski rajon has its festival of Belarusian horses. 'Na Zarechnoi Ulitse' (In Zarechnaya Street) homestead (Kobrynski rajon, in the Brestskaja voblasć) hosts the traditional culinary competition, 'Palieskija Prysmaki' (Paliessie Delicacies).
The Kamarova vioska (Miadzieĺski rajon, in the Minskaja voblasć) hosts the 'Circle of Days' national crafts fair. Meanwhile, at the end of summer, 'Peschany Bereg' (Sand Shore) homestead in the Bychaŭski rajon in the Mahilioŭskaja voblasć organises the Big Bard's Fishing Festival.
In early May, the traditional festival of sandpipers attracts nature lovers from all over Belarus to Turaŭ, near Turaŭski meadow: one of the most important sites for nesting and migration of many species of wading birds. It's home to the largest stable settlement of the Terek sandpiper in Belarus, listed in the Red Book.
Active recreation
For those keen on outdoor activities, Belarus is perfect, with its forests, parks, lakes and rivers.
Hiking
It's wonderful to explore Belarusian cities on foot; each one has its own interesting walking routes, taking in all of note. Of course, hiking in the great outdoors brings different pleasures. There's the 'land of yellow water-lilies and grey boulders' in the Viciebskaja voblasć, while the Liepieĺski rajon boasts ancient settlements and mounds. The Mahilioŭskaja voblasć has places connected with the Great Patriotic War, and the Minskaja voblasć offers 1812 battle-sites.
Prypiacki (Pripyatsky) Park, in the Homieĺskaja voblasć, has a great many eco-walking routes, while the Hrodzienskaja voblasć has its 'royal road', taking visitors from one castle to another. The Bresckaja voblasć is rich in historical monuments, with Brest Fortress being the most famous. Stories about the fortress and the courage of its soldiers, as well as the magnificence of local nature, are truly moving. Bielaviežskaja pušča (Belovezhskaya Pushcha) hiking routes take visitors through untouched forest, inviting the taking of many photographs.
Cycle tourism
Cycling is a favourite occupation, with many cities having cycle paths alongside roads, and taking cyclists through parks, beside canals and past the main architectural sites.
Minsk's 27km central cycle path is the most popular urban route in the capital. Meanwhile, information on cycle tourism in Belarus, including routes, is available on Minsk, Hrodna, Brest, Viciebsk, Homieĺ and Mahilioŭ cycling club websites.
The Bielaviežskaja pušča (Belovezhskaya Pushcha) National Park has four cycle-routes, equipped with information signs, and several picnic spots. Routes are graded as being suitable for novices through to experienced cyclists, with visitors welcome to ride either their own bicycle or one hired from the national park.
Water tourism
There are more than 20,000 rivers and over 11,000 lakes in Belarus: more than 30,000 places for water excursions. Cruising by motorboat is a wonderful way to explore local attractions.
Meanwhile, you can spend anything from a few days to a week canoeing Belarusian rivers, seeing Belarusian nature up close, in the company of professionals, to ensure your safety.
Famous Braslaŭskija aziory (Braslav Lakes), in the Minskaja voblasć, also invites canoeing and boating, through the 'blue necklace' of Belarus.
Meanwhile, Aŭhustoŭski kanal is a pearl of the Hrodzienskaja voblasć, for some years hosting canoeists from Lithuania, Poland and Belarus. Tourists note its historical treasures: 19th century bridges and inscriptions on the walls from the time of WWI.
Ahinski kanal is an ancient waterway, constructed in the 18th century by the Rzecz Pospolita's Michal Kazimir Ahinski, taking in the beauty of Belarusian Paliessie.
Equestrian tourism
Belarus boasts horse-riding clubs and equestrian centres, offering not only time in the ring but horse-riding hacks, for a single day or more. The 'Golden Horseshoe' route in Hlubokaje is very popular, going past the former residence of Duke Molé, and taking in rural homesteads, where riders can enjoy Belarusian cuisine. There are horse-riding clubs all over Belarus.
Mountain skiing tourism
In summer, Belarusian slopes, hills and gullies are covered with bright greenery, becoming places for mountain skiing in winter. Our moderate climate and absence of avalanches makes it a safe option for all.
In Belarus, winter sports are concentrated at mountain ski centres and activity parks, in the Minskaja voblasć, Homieĺskaja voblasć and Viciebskaja voblasć. Siličy (Silichy) Ski Resort is a popular place for mountain skiing, boasting ski tracks for beginners and professionals, adults and children, as well as tubing and snowmobile tracks. After an intense day, tired tourists can relax at a hotel.
Jakuckija Hory Activity Park is situated 37km from Minsk, close to Belarus' highest point – Hara Dziaržýnskaja (345m). In winter, the park offers riding along a mountain ski-track, on 4-wheelers or snowmobiles.
Soniečnaja Dalina (Solnechnaya Dolina) Ski Centre is known for its location, being situated on the bank of Zaslaŭskaje water reservoir (called Minskaje mora locally). In winter, it becomes a place for skating, and mountain and cross-country skiing. If you're keen on extreme leisure pursuits you may drop in to try snowboarding.