Cycling tourism in Belarus
Famous English writer and philosopher Iris Murdoch once noted: 'The bicycle is the most civilised conveyance known to man'. Cycling has its own special charm, allowing access to untrodden paths, and the opportunity to admire beautiful surroundings, admiring the breadth of nature.
In recent years, cycling has become especially popular among not only the younger generation but more mature people; they visit famous sites, organise picnics in the countryside and enjoy city parks.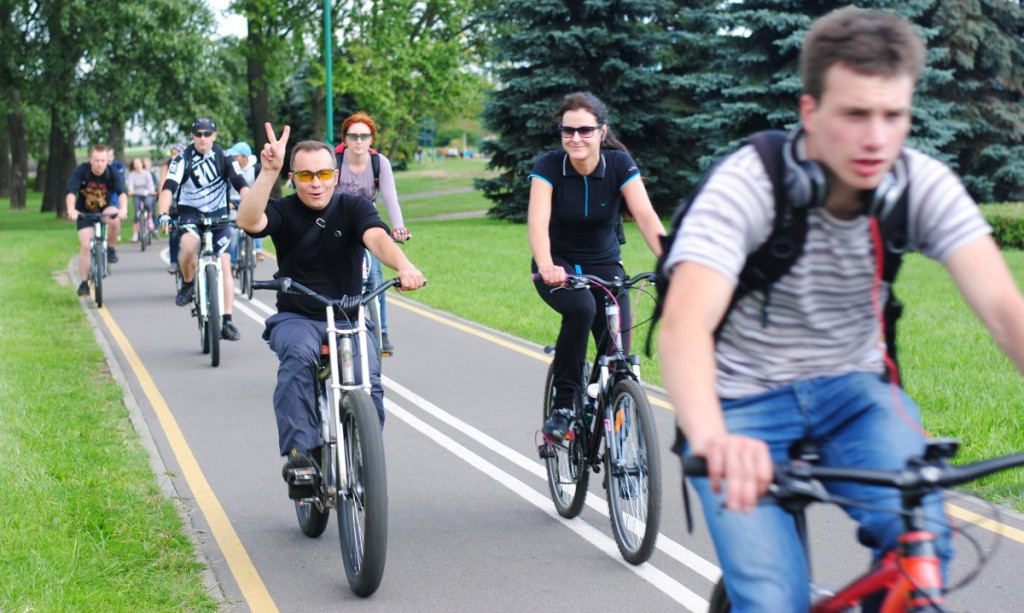 The capital is paying huge attention to the development of infrastructure for cycling fans, laying new paths in Minsk and its suburbs, including cycle lanes to avoid crossing traffic, and parking places for bicycles. There are road markings and corresponding signs.
In constructing new blocks of flats, cyclists' needs are taken into account, with special gates for courtyards. Meanwhile, pavements are being laid wide enough to be divided into two: one half for pedestrians and the other for cyclists. Anyone wishing to take to their bike can do so safely.
Where can we cycle in Belarus?
Minsk has various cycle paths enjoying popularity, with guests and residents. Minsk's longest cycle path is 27km, running from the north-west to the south-east of the city, from Drazdy water reservoir to Čyžoŭskaje water reservoir. It opened in September 2009, and takes bikers along the River Svislač, through Park Pieramohi (Victory Park), Gorky Park, Praspiekt Pieramožcaŭ (Pobediteley Avenue) and Janka Kupala Public Garden. The route connects two of the most important sports facilities: Minsk-Arena and Čyžoŭka-Arena (which hosted the 2014 IIHF World Championships). The path is 3m wide and, in summer, you can hire bicycles. There's even a cycling café on the riverbank.
A cycle path runs along the city's major road, Praspiekt Niezaliežnasci (Nezavisimosti Avenue), from the Belarusian State Circus to the National Library, through Plošča Pieramohi (Victory Square), Plošča Jakuba Kolasa (Jakub Kolas Square) and CUM (central department store), Park Čaliuskincaŭ and the Central Botanical Garden.
The historical part of the city also has a cycling path, through Lošycki Park, which houses an 18th-19th century estate. Ancient brewery buildings are also situated there, now undergoing reconstruction.
The path from Lahojski trakt to Raŭbičy, along the M3, covers 15km and begins from Minskaja ring road, finishing at Raŭbičy (Raubichi) Sports Complex, taking in more of the countryside.