Come visit us during the holidays!
The official holidays of Belarus are the following: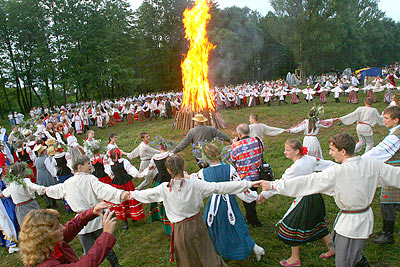 January 1 — New Year
January 7 — Orthodox Christmas
March 8 — International Women's Day
March 15 — Constitution Day
Radunitsa — Commemoration of the dead, or Easter for the dead. Traditionally, the holiday is celebrated on Tuesday two weeks after Orthodox Easter
May 1 — Labour Day
May 9 — Victory Day
July 3 — Independence Day
December 25 – Catholic Christmas
Apart from these established dates, there are also other national holidays with "floating" dates. One of them is the Day of Belarusian Written Language, which is celebrated annually on the first Sunday of September. Traditionally the holiday is held in historical towns of Belarus, which throughout their history have been the centers of book printing and education. The first town which held this holiday was Polotsk in 1994. Later its "capitals" were Turov, Novogrudok, Nesvizh, Orsha, Pinsk, Zaslavl, Mstislavl, Mir, Kamenets, Postavy.
The Republican Festival-Fair of Rural Workers "Dozhinki" has been held each year since 1996.