Visa-free travel to Brest-Grodno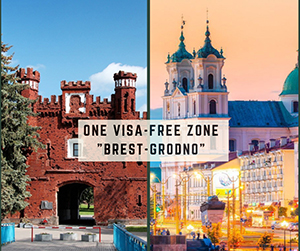 Foreign visitors can enter Belarus visa-free to visit the "Brest-Grodno" tourist visa-free zone for the period up to 15 days.
Tourists can enter the visa-free zone via the following international border checkpoints:
♦ automobile checkpoints:
Brest (Terespol)
Bruzgi (Kuznica Bialostocka)
Domachevo (Slawatycze)
Benyakoni (Salcininkai)
Peschatka (Polowce)
Privalka (Raigardas)
♦ simplified checkpoints:
Pererov (Bialowieza)
Lesnaya (Rudawka)
Privalka (Szandubra)
♦ railway checkpoints:
Brest (Terespol)
Grodno (Kuznica Bialostocka)
♦ airport checkpoints:
Brest Airport
Grodno Airport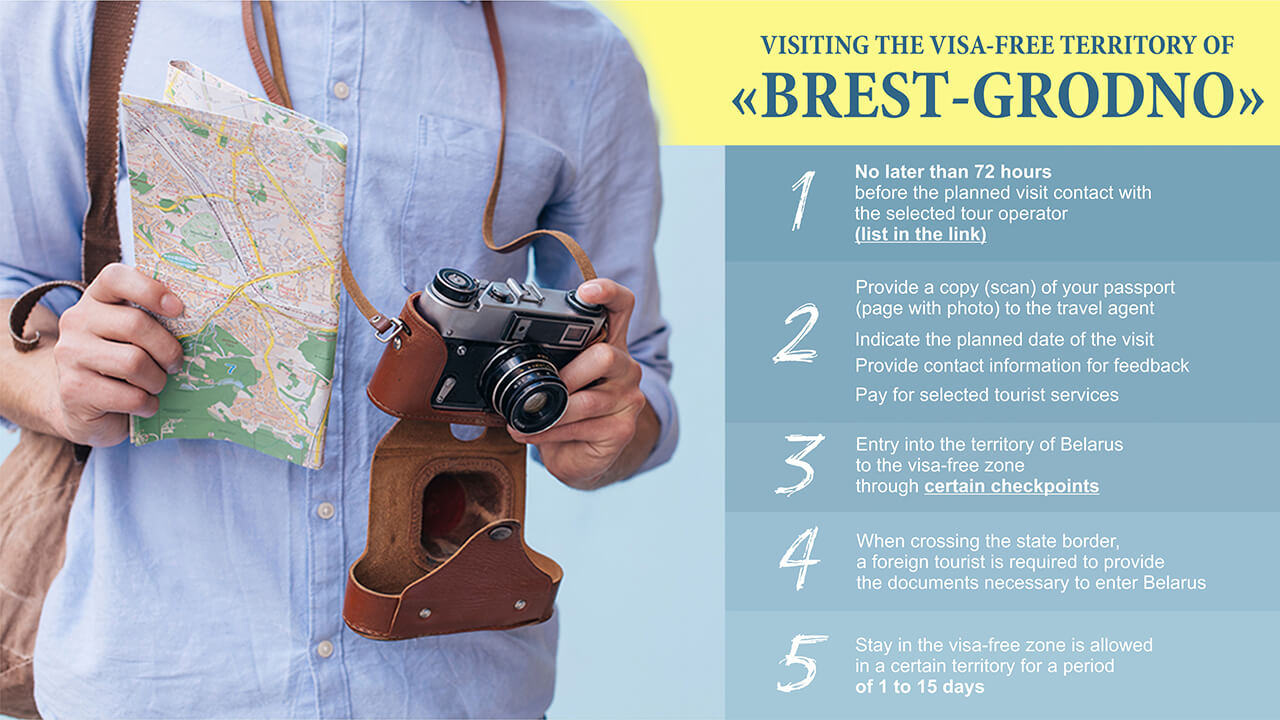 The list of tour operators is available via link below
Visa-free territory includes the city of Brest and Brest, Zhabinka, Kamenets, Pruzhany districts of the Brest region; the city of Grodno and Grodno, Berestovitsa, Volkovysk, Voronovo, Lida, Svisloch, Shchuchin districts of the Grodno region.
When visiting "Brest-Grodno" visa-free zone as part of an organized group, tourists can visit other areas of Brest and Grodno regions (not mentioned above), but only if it is part of the planned tour route.
In order to enter the visa-free territory, a foreign visitor should possess the document which is issued by Belarusian tourist agency.
In order to obtain the document, a foreign visitor shall address Belarusian travel agency which has the right to issue such documents and receive confirmation approving a foreign traveler's right to enter Belarus visa-free, as well as obtain tourist service which should be booked in advance.
Before entering Belarus, a foreign visitor is to get a health insurance for the period of stay in Belarus.
A foreign visitor entering Belarus visa-free shall present the following documents at Belarus state border checkpoint:
passport or another valid document for travelling abroad;
document issued by Belarusian travel agency which allows to visit Grodno-Brest tourist visa-free territory;
health insurance.
More detailed information can be found here.
---
The list of the selected tour operators