Cathedral of Three Saints in Mogilev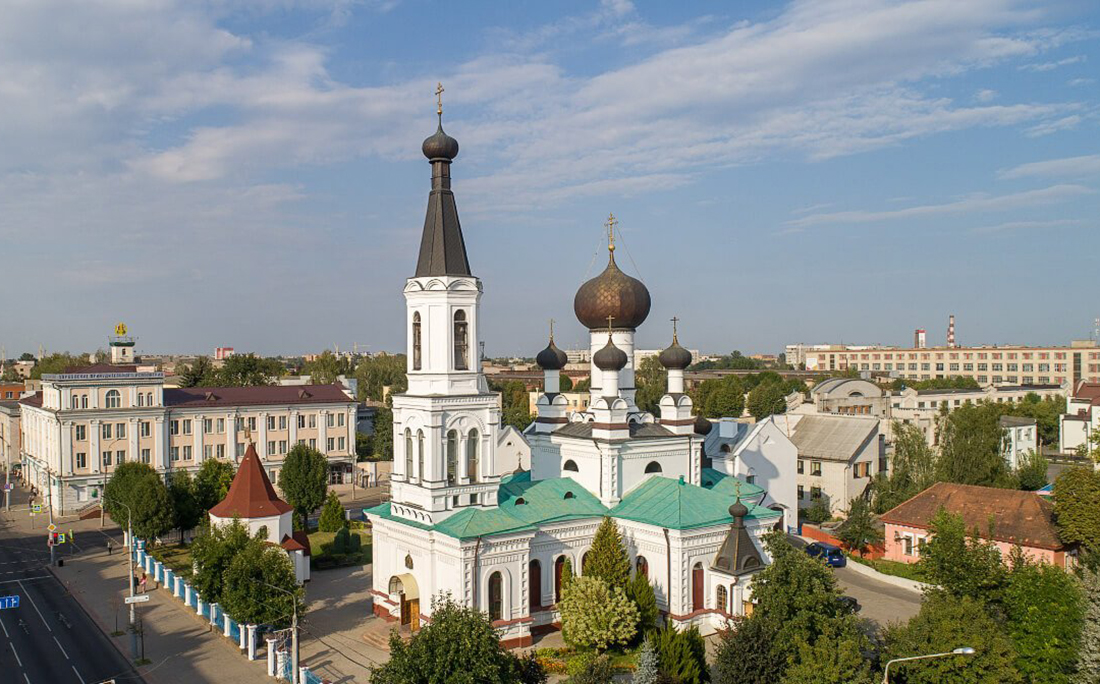 Mogilev's major Eastern Orthodox cathedral, an architectural specimen of the early 20th century, was named after Basil the Great, Gregory the Theologian, and John Chrysostom. The seven-dome cathedral was built in the form of a cross in the pseudo-Russian style. It has a very remarkable feature: one can enter it from three sides. During the First World War the cathedral was frequented by Emperor Nicholas II. The major halidom of the church is the replica of the wonder-working Icon of the Mother of God of Mogilev and Bratsk. The church also holds the icon of Saint Nicholas with pieces of hallows, the replicas of the Belynichi and Barkolabovo icons of the Mother of God, and the image of Saint Euphrosyne of Polotsk dating back to 1910.
St. Stanislaus Cathedral
A beautiful Baroque-style Roman Catholic Church of the Assumption of the Blessed Virgin Mary was built in Mogilev on the site of the Carmelite monastery. A legend says that it was built from kiln bricks that were brought by the townspeople to atone for the sin of the murder of a local nobleman. After visiting the temple in 1780 Empress Catherine II ordered to evict the monks and to convert the church into a cathedral. At the end of the 18th century it was reconstructed in the Classicism style and received a second name in honor of St. Stanislaus. The domes of the cathedral are decorated with the unique authentic 18th-century frescoes to the Bible stories representing one of the most complete and professional Evangelical cycles in Belarus.
An outstanding architectural specimen, Bykhov Castle is a landmark of the ancient town. The castle was erected by Hetman of the Grand Duchy of Lithuania Jan Karol Chodkiewicz. The citadel was surrounded by earth mounds and a moat and was guarded by defensive towers. Inside the defensive walls was a grand castle complex with private chambers and a magnificent crown hall for official meetings, receptions and balls. In 1628 the castle was purchased by Lew Sapieha who ordered large-scale renovations of the castle. Throughout its history the castle witnessed many wars. Fragments of the castle have survived till today.
---
⇒ To go back to the main article, please, click here